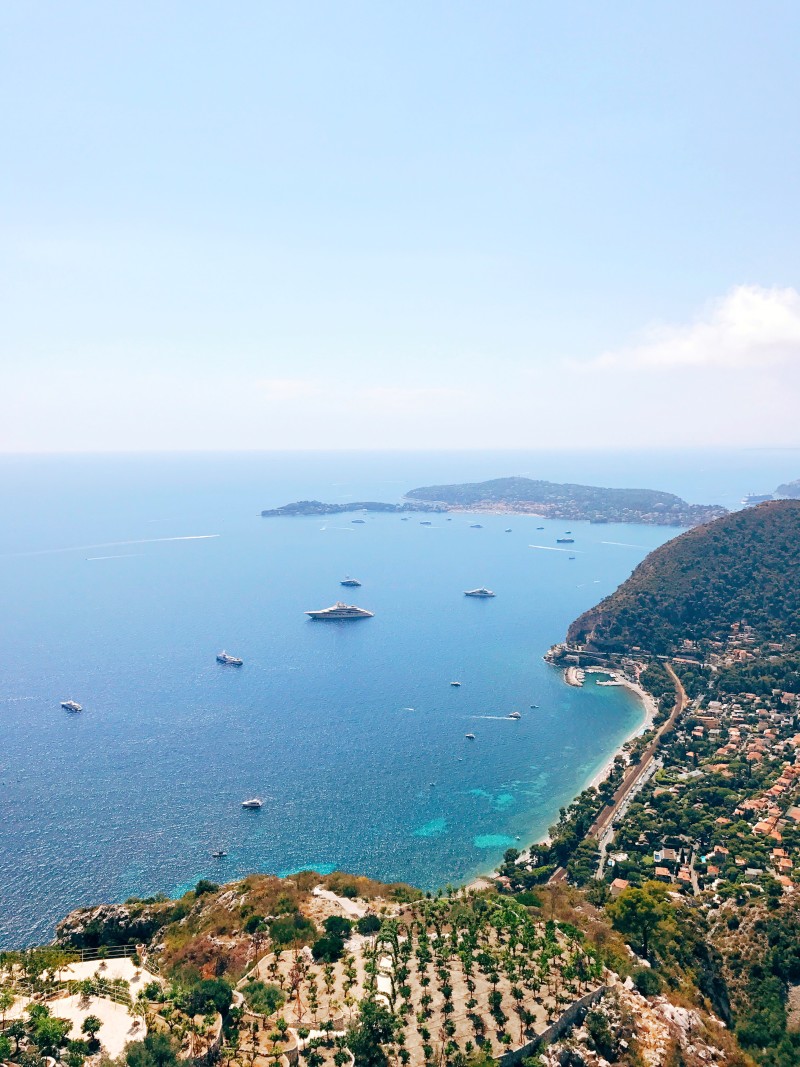 If you've ever been to the South of France, you know it's a magical place!
Last month my boyfriend and I spent 12 days visiting Saint Tropez, Antibes, Eze, Monaco, Provence and Paris! In case you missed it, I kicked off my travel series with our Saint Tropez travel guide.
Today I'm so excited to share with you guys our itinerary from the second part of our South of France visit. I did SO much research in prepping for our trip (insert my killer and somewhat obsessive South of France Google map). I was honestly so frustrated I couldn't find an itinerary I wanted to copy so today I hopefully can help you with planning your first (or next) visit to the South of France!
We ended up utilizing a mix of personal friend recommendations with recommendations we found online via The New York Times, Conde Nast Traveler and Fodor. Honestly, there are so many ways one could visit the South of France but here's what we ended up doing for the first time around!
Read on for our must-visit stops!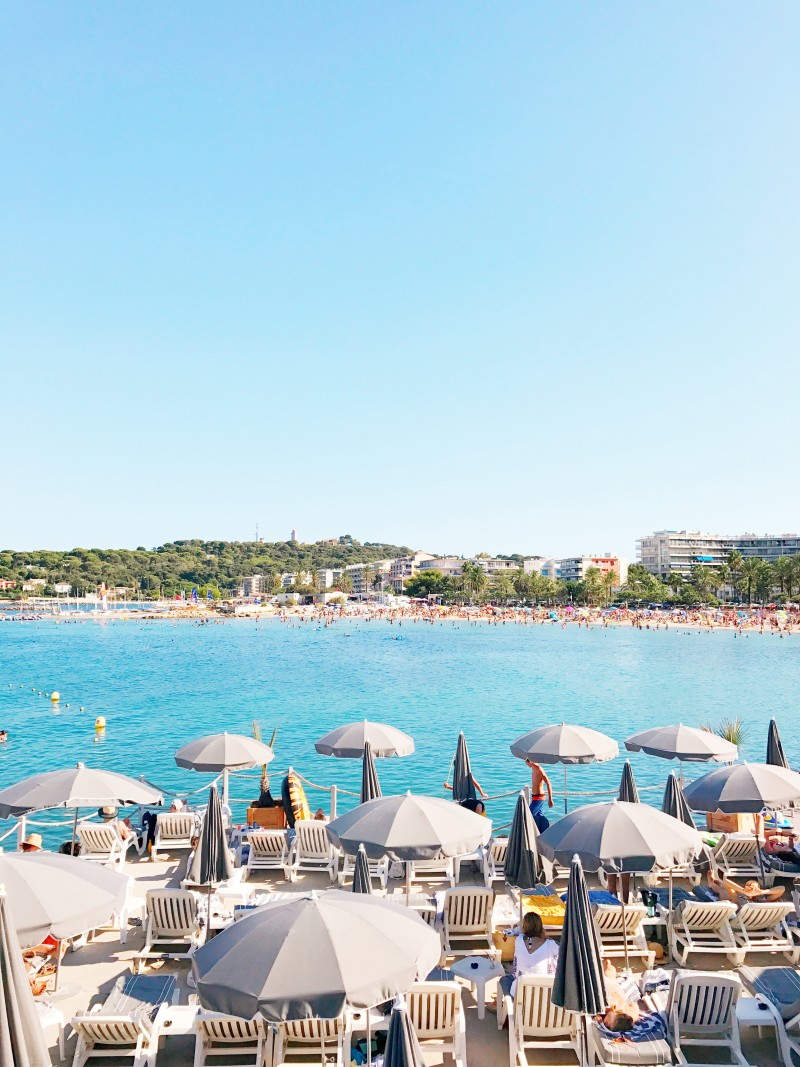 As I mentioned in my Saint Tropez travel guide, there is no train station located in Saint Tropez. We planned to go from Saint Tropez to Antibes on a Tuesday, a major market day in Saint Tropez. Luckily traveling out of the city on a Tuesday is much better vs. driving in to Saint Tropez on a Tuesday! We had our hotel in Saint Tropez set up a car service to drive us to our next destination the The Royal Antibes Hotel, a 4-star property located right on the water with amazing views of the Mediterranean. Yes, please!
Where We Stayed
I discovered the Royal Antibes Hotel through one of my girlfriends who had previously planned a trip to the South of France. I had such a hard time finding a hotel where we wanted to stay during this leg of the trip. I kept debating on staying in Nice or Cannes.
If you've ever researched the South of France, you'll probably discover that many people recommend hotel hopping on the coast in order to see the different towns. For us, it was more important to have one consistent home base and sprinkle in day trips throughout our stay. This was probably one of the best decisions we made! Traveling for 12 days gets exhausting so however much we can limit the various hotels/destinations we realized was the best way to travel.
The Royal Antibes ended up working out great for us. The hotel had a delicious breakfast each morning, a gym that we used (more than once, might I add to work off all of that cheese and wine!) and a beautiful spa with amazing Cinq Mondes skincare products. I'm officially hooked on this french skincare brand now! You have to try this peeling mask or this youth serum!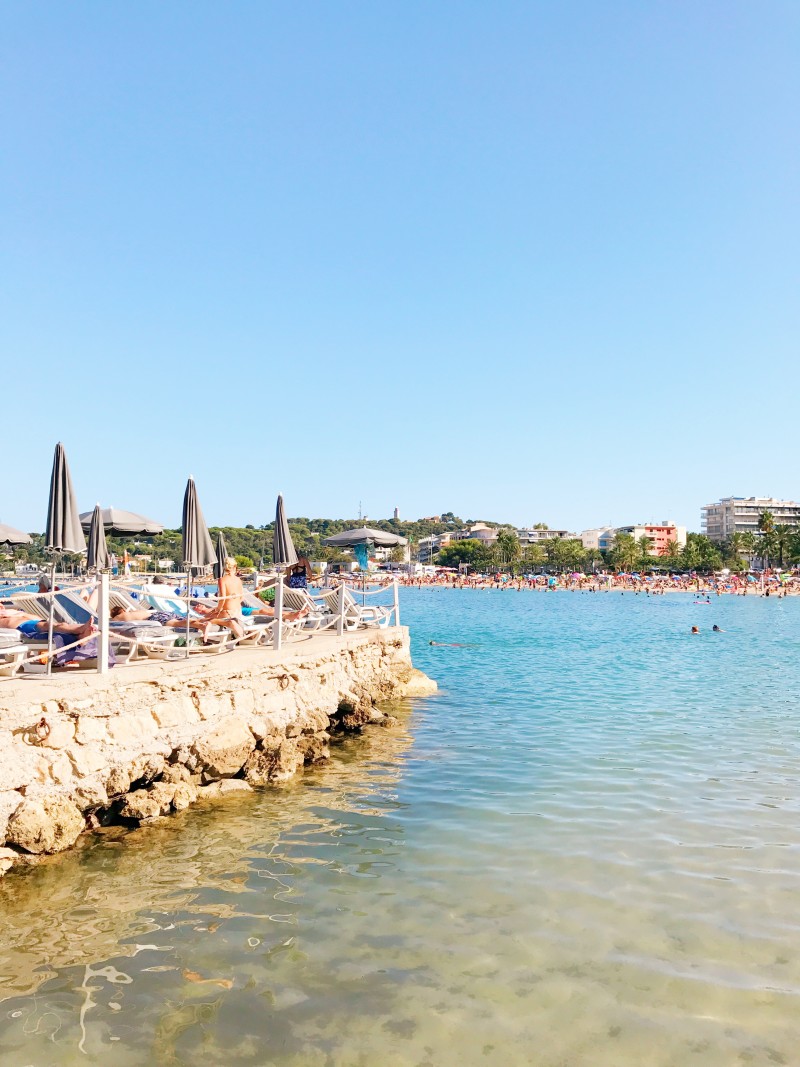 As soon as we arrived to the hotel on Tuesday, we grabbed a drink on their beach deck overlooking the public beach in Antibes. There were a few nights in Antibes where we didn't have a dinner reservation which was mistake #1. The month of August in the South of France is a peak travel season. So we learned very quickly we needed to have a dinner reservation every night if we wanted to eat delicious meals!
Luckily the concierge at the Royal Antibes saved us! The concierge helped us with two different dinner reservations during our time in Antibes. All in all, I would HIGHLY recommend the Royal Antibes hotel for your first or next visit to the South of France! Check out below our 3-day itinerary.
South of France Itinerary
Day One
Day One 12:00pm: Check in to the Royal Antibes hotel. Check in isn't until 4 but there is plenty to do in town! Walk to the Old Town of Antibes, visit the Picasso Museum and grab gelato at Gelateria Del Porto.
4:00pm: Walk back to the Royal Antibes and grab a drink on the water.
7:00pm: Walk back into to town to grab pizza at Le Chrono.
Day Two
9:00am: Grab breakfast at the hotel and order a taxi to the Antibes train station. Ubers are also readily available in the South of France which is so convenient!
10:30am: Catch the train to the village of Eze. It only takes about 40 minutes to travel from the Antibes to the Eze-Sur-Mer train station. If you prefer to rent a car, that is also an option. The only caveat is that you will have to find parking!
11:30am: Arrive at the Eze train station and call for a taxi. As soon as you walk up the steps from the train station, there is a taxi stand. If there's not a taxi waiting, you can call the number on the sign to order one. It costs 45 euros to go up to the village of Eze – crazy, right?! The cab can only go so far up the hill so be prepare to walk up the steps to the village.
The village of Eze is famous worldwide for their view of the Mediterranean sea from the hilltop. It honestly was one of the best views we had during our entire trip.
12:30pm: Grab lunch at Chateau Eza – must make reservation ahead of time and ask for a water views!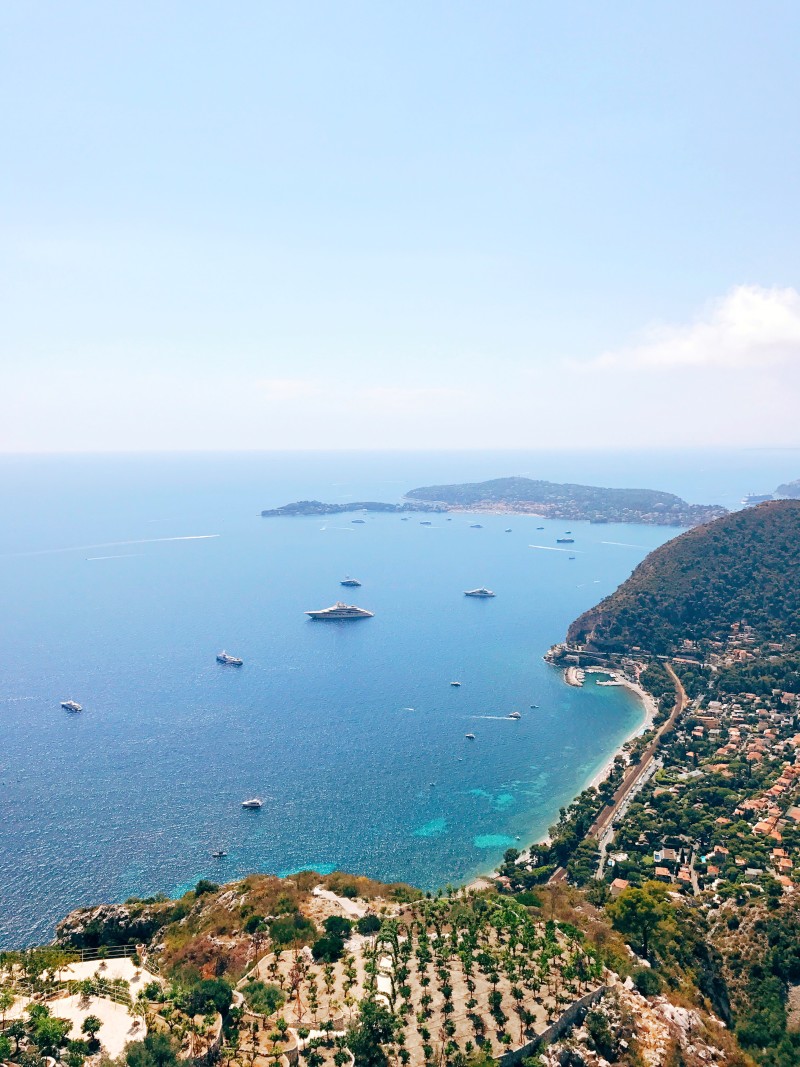 Our views from lunch at Chateau Eza!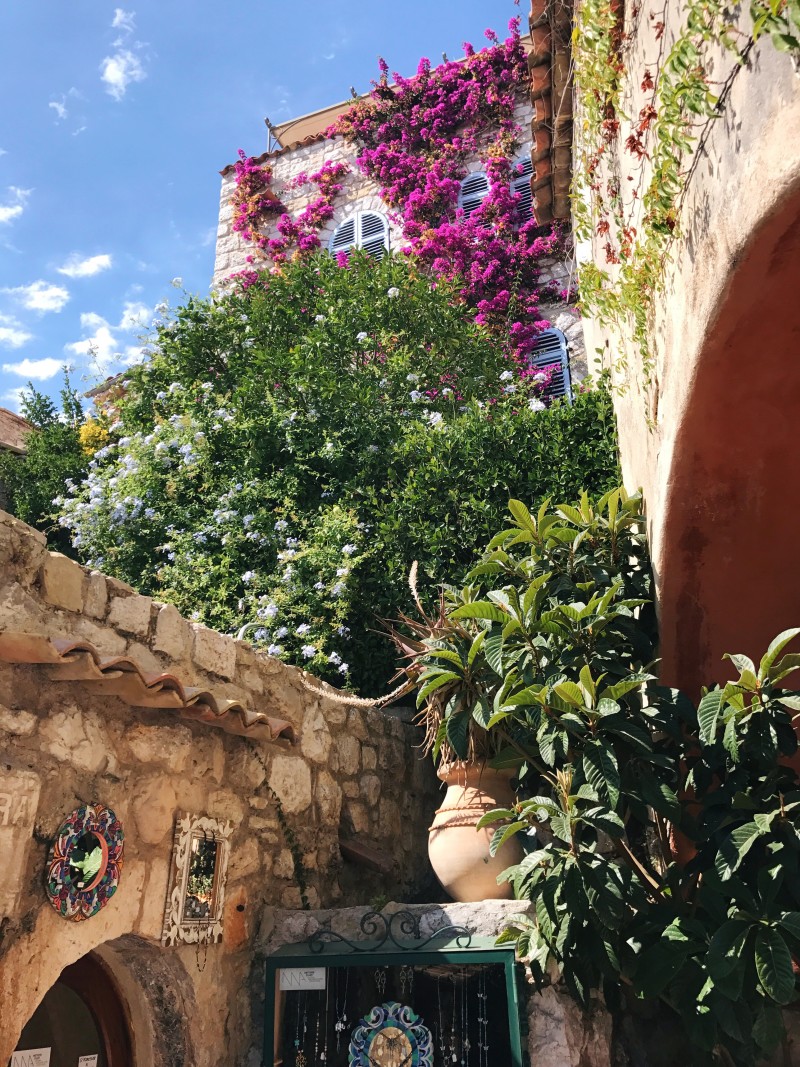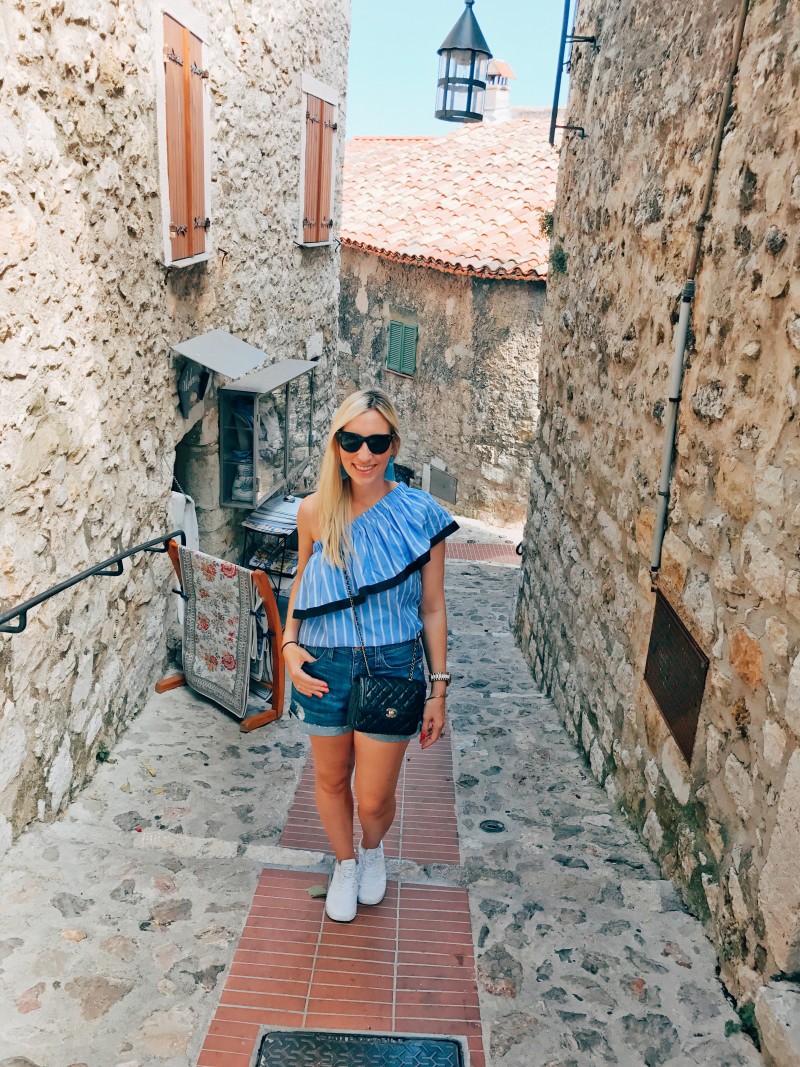 Walking around the village!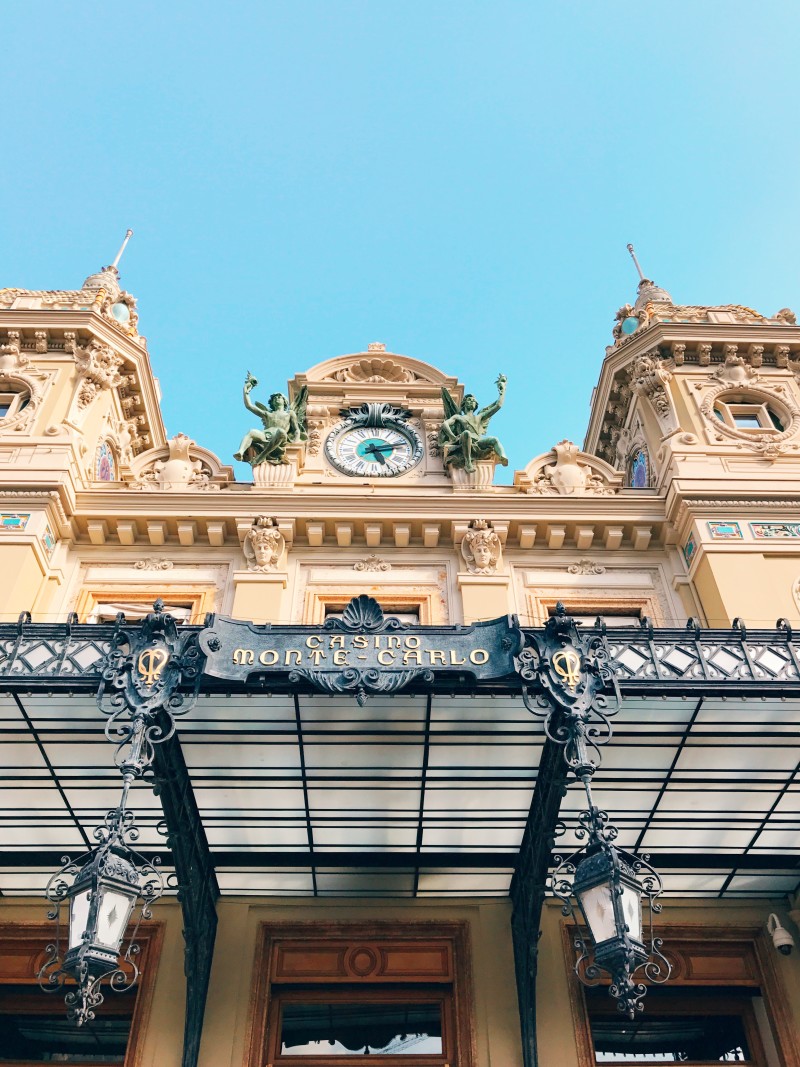 2:00pm: Order taxi to Monaco. We originally thought we would take the train from Eze to Monaco but our taxi driver who was taking us down the hill mentioned that for only 5 euros more, he could drive us directly to Monte Carlo! Done and done.
2:15pm: Arrive at the infamous casino in Monte Carlo. If Monaco is on your list, visiting the Casino is one of the main activities to do during your visit! It costs $20 euros per person to enter the casino but worth the visit if you're intrigued! The inside of the casino is gorgeous, we grabbed a drink at the bar and spent about an hour at the casino.
3:00pm: Walk around the port of Monte Carlo to see all of the amazing yachts. Grab coffee at Hotel de Paris.
4:00pm: Train back to Antibes
5:00pm: Hang back at the hotel and relax.
8:00pm: Grab dinner back at the hotel – must order the pasta with clams!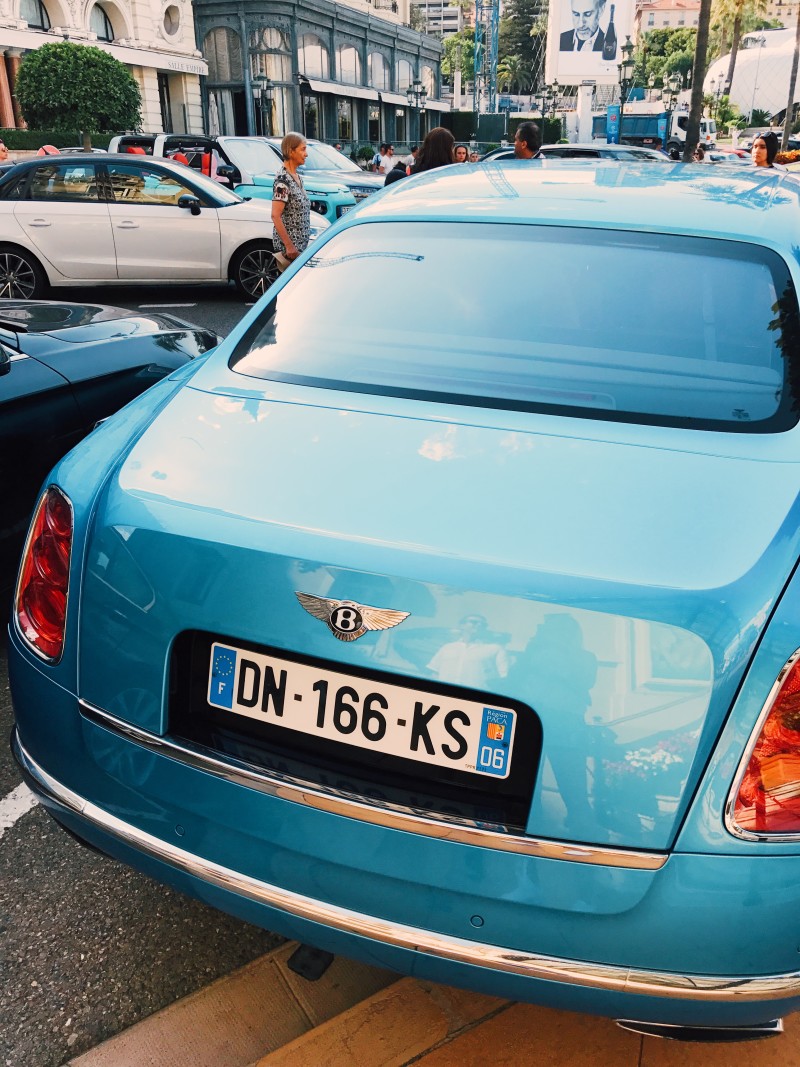 Day Three
9:00am: Grab breakfast at the hotel and order an uber over to the Hotel Belle Rives, located on the coast of the Juan-les-Pins. You must call ahead to make a reservation for the day beds on their pier! You also should request where you would like to sit on their beach.
12:00pm: Head to the infamous Hotel Cap de Eden Roc for lunch. This was such a bucket list item for me! The views are incredible and the food was amazing! Order the lobster roll and cobb salad.
3:00pm: Head back to Hotel Belle Rives to finis the afternoon soaking in the sun.
6:00pm: Head back to the Royal Antibes to relax and get ready for dinner.
8:00pm: Grab dinner in town at Michaelangelos, a celeb hot spot during the Cannes film festival! Must make reservation ahead of time.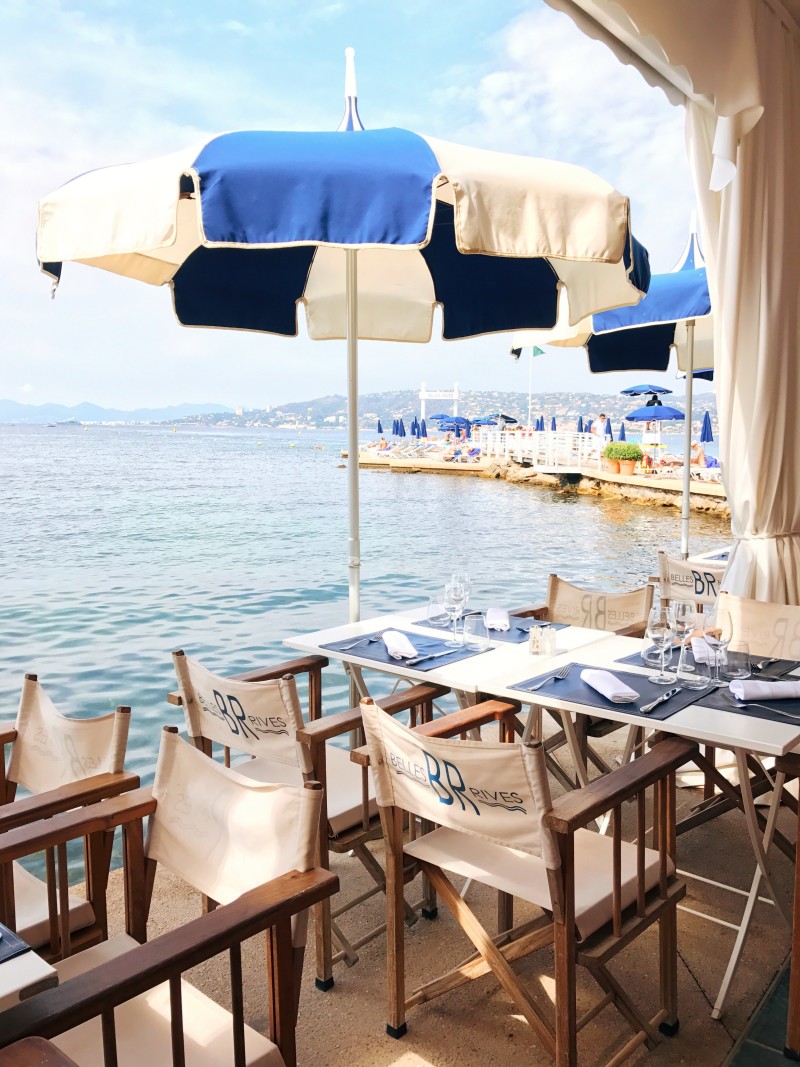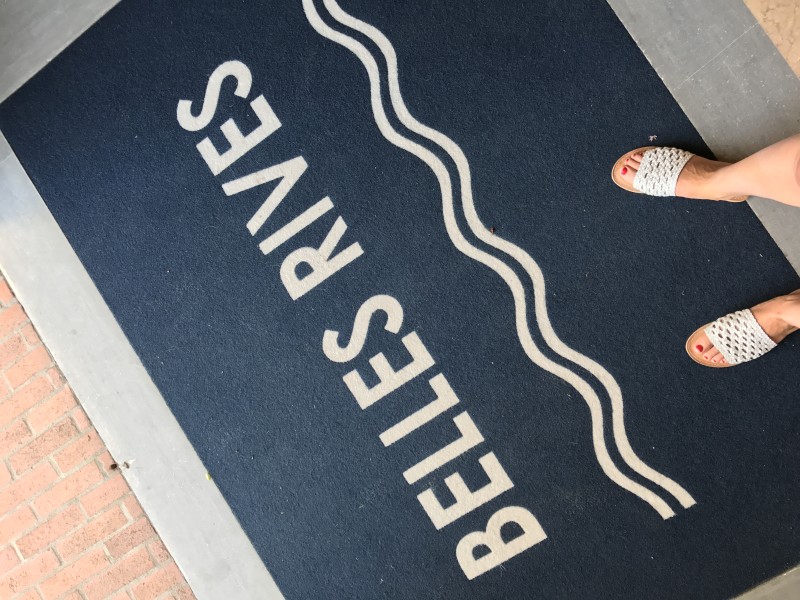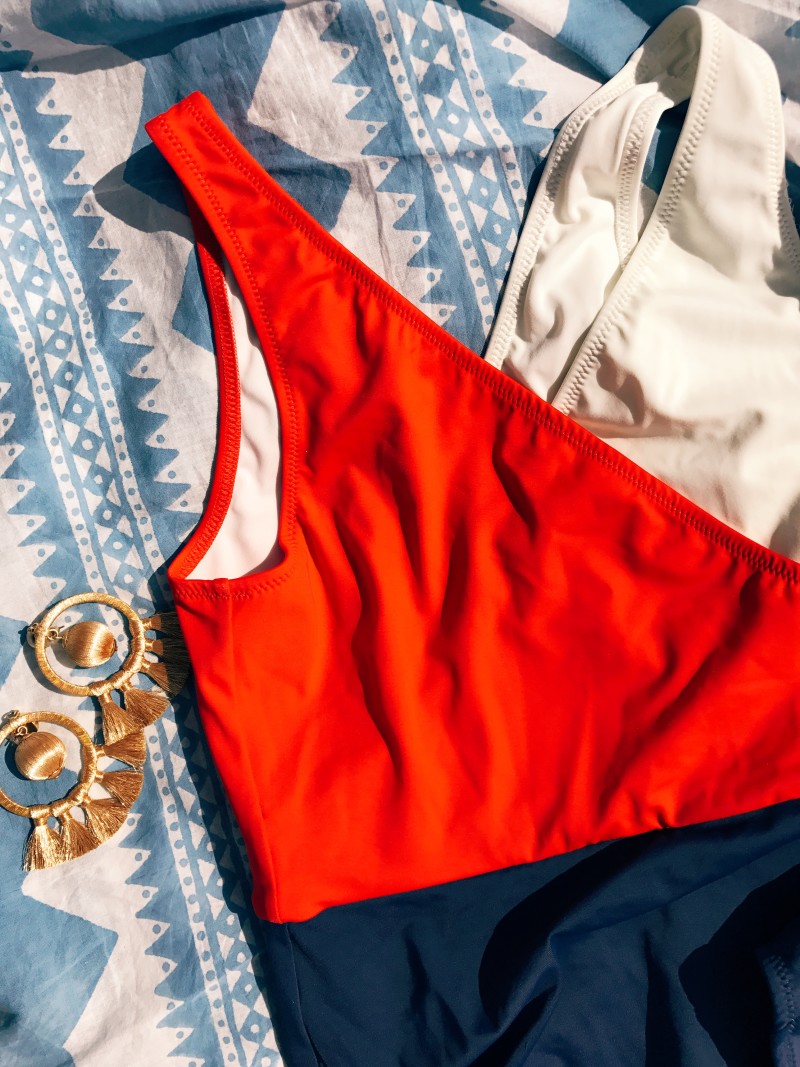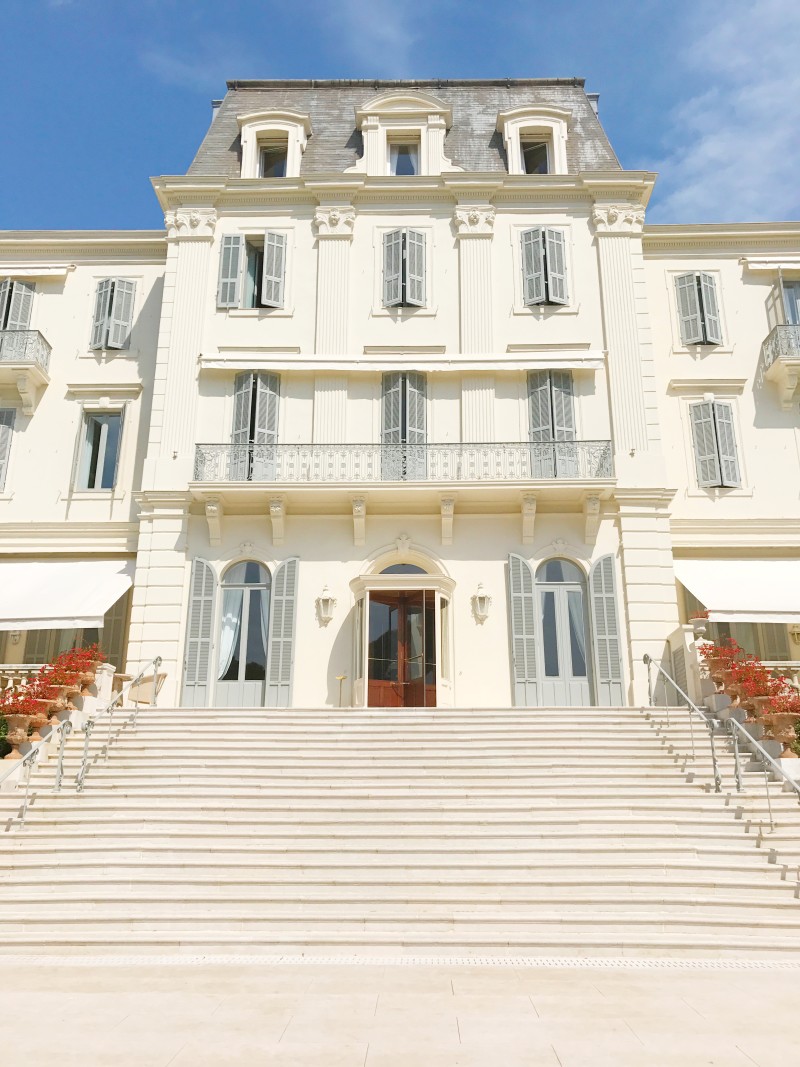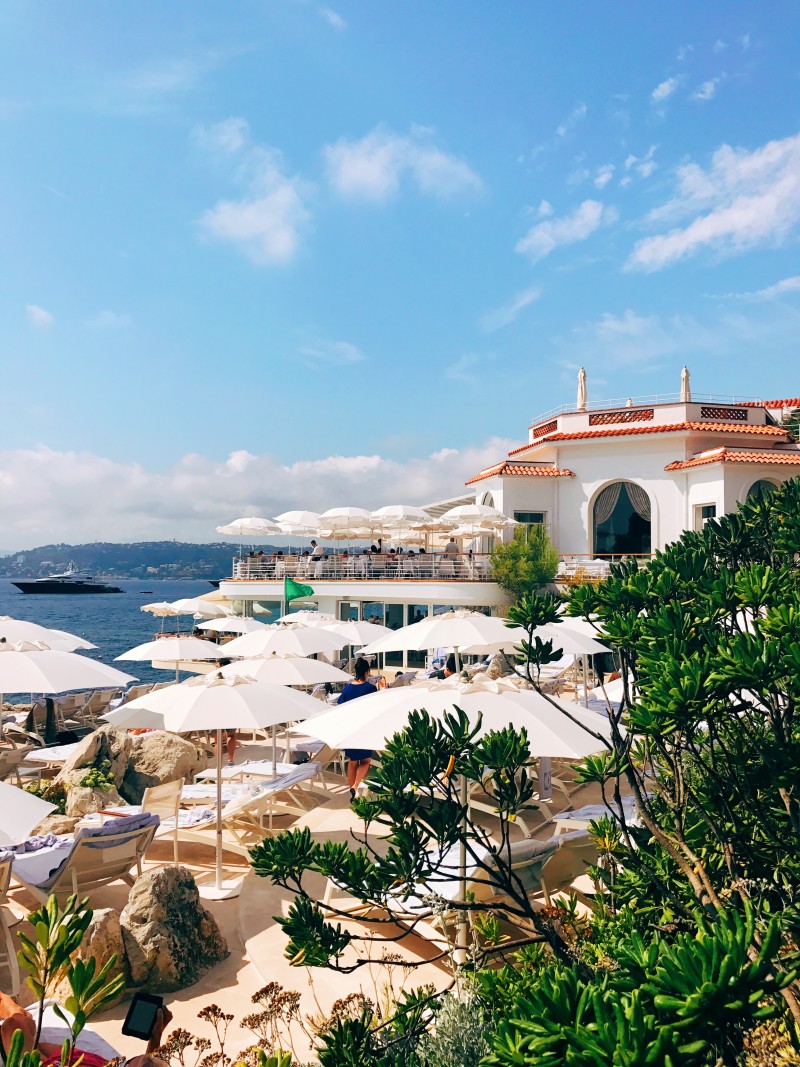 Day Four 
9:00am: Catch train to Avignon, France! More to come on this next week…
The best thing about the South of France (and France in general) is that you can really spend one full day exploring the different towns and villages. Your ideal itinerary can certainly vary based on your priorities. For us, we wanted a vacation that was ultimately relaxing. We didn't want to jam too much in to one trip so we didn't end up going to Nice or Cannes! I originally had us scheduled to squeeze in Cannes after lunch at Hotel Cap Eden Roc. Since it was our last day on the coast before heading to Provence, we preferred spending it at the beach vs. in a major tourist area. I'm sure we will add it to our next itinerary!  We seriously can't wait for our next trip back to continue exploring the beautiful Cote de Azur.
Whenever I plan a trip, I create a map in Google maps. It's honestly one of the best ways I learn about the area from hotels to restaurants to museums. I created a KILLER South of France map that you guys can access right here! We of course didn't visit every hotel or restaurant starred on the map but it's a great starting point if you're looking to plan a trip. All of these starred locations are ones friends referred or I found during my research.
I would love to hear what you think or if you use it on your next trip! Send me a note at lauren@lauren-nelson.com and happy to help with any trip planning questions! Xo. Lauren