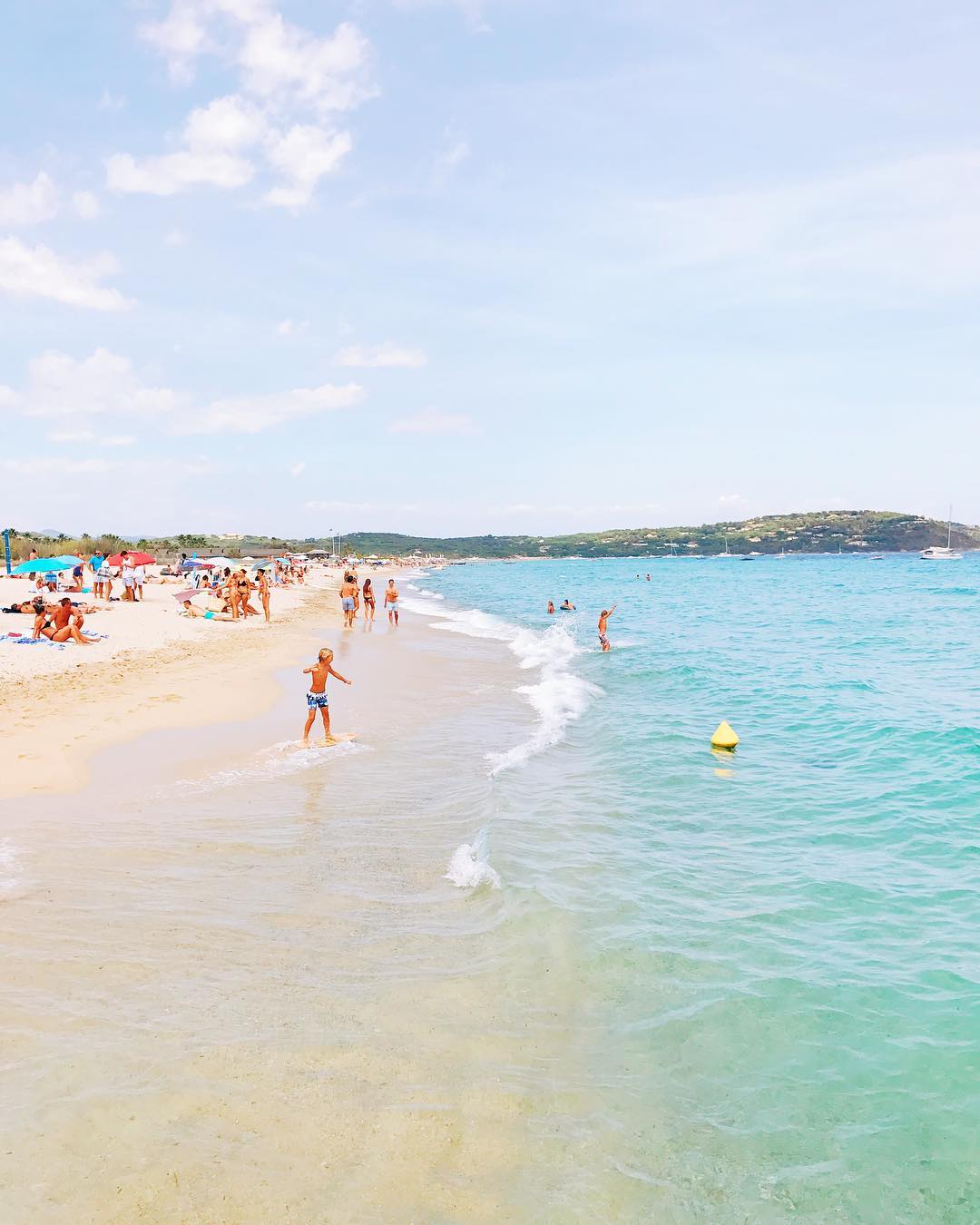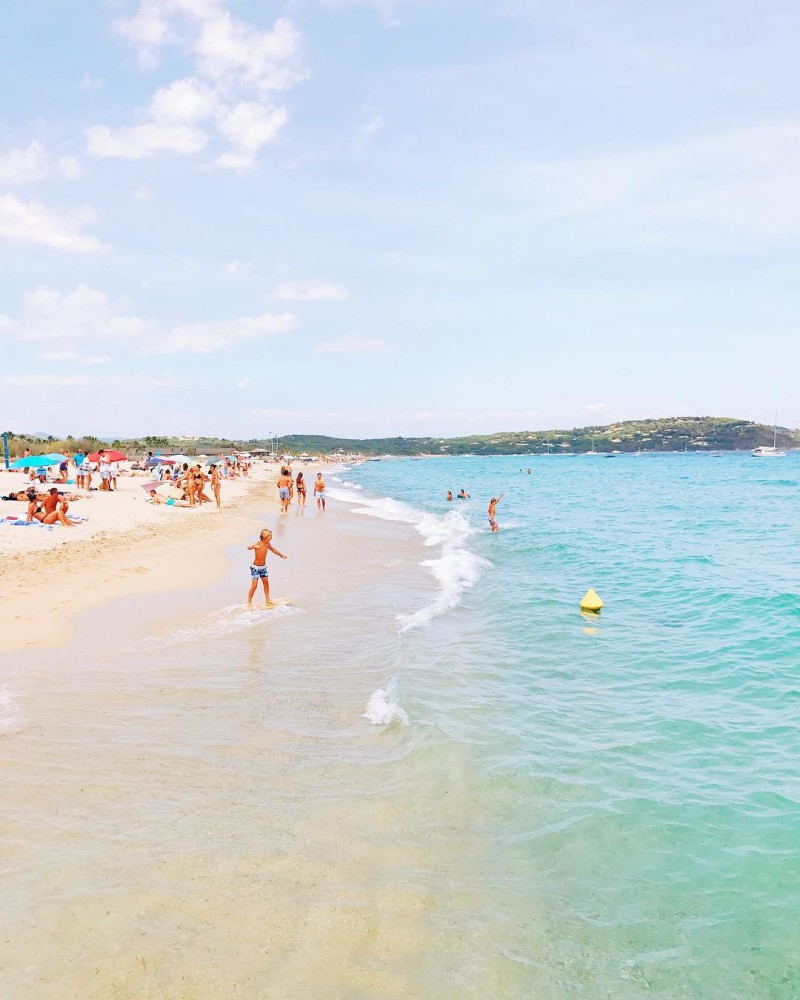 Bonjour! We're officially back from France and I'm so excited to share with you guys a series of travel guides from our 12 day trip to France! As I mentioned a few weeks ago, our itinerary included South of France, Provence and Paris. I'm kicking off my France travel guide series with Saint Tropez, a major highlight from our trip!
If you're looking to do a trip to the South of France, it's important to start with the towns you want to visit and create your itinerary from there. We knew we wanted to do Saint Tropez and Antibes with day trips up to Eze and Monoco. We could have done so much more in the South of France so I think next trip, we will do the entire trip in the South of France and break up the visits to Provence and Paris.
I did a TON of research before we left and really couldn't find an itinerary I wanted to copy so I made up my own combining a ton of friends personal recommendations, New York Times 36 Hours Recommendations and just general research (trip advisor, Fodor, etc).
Let's get started shall we?!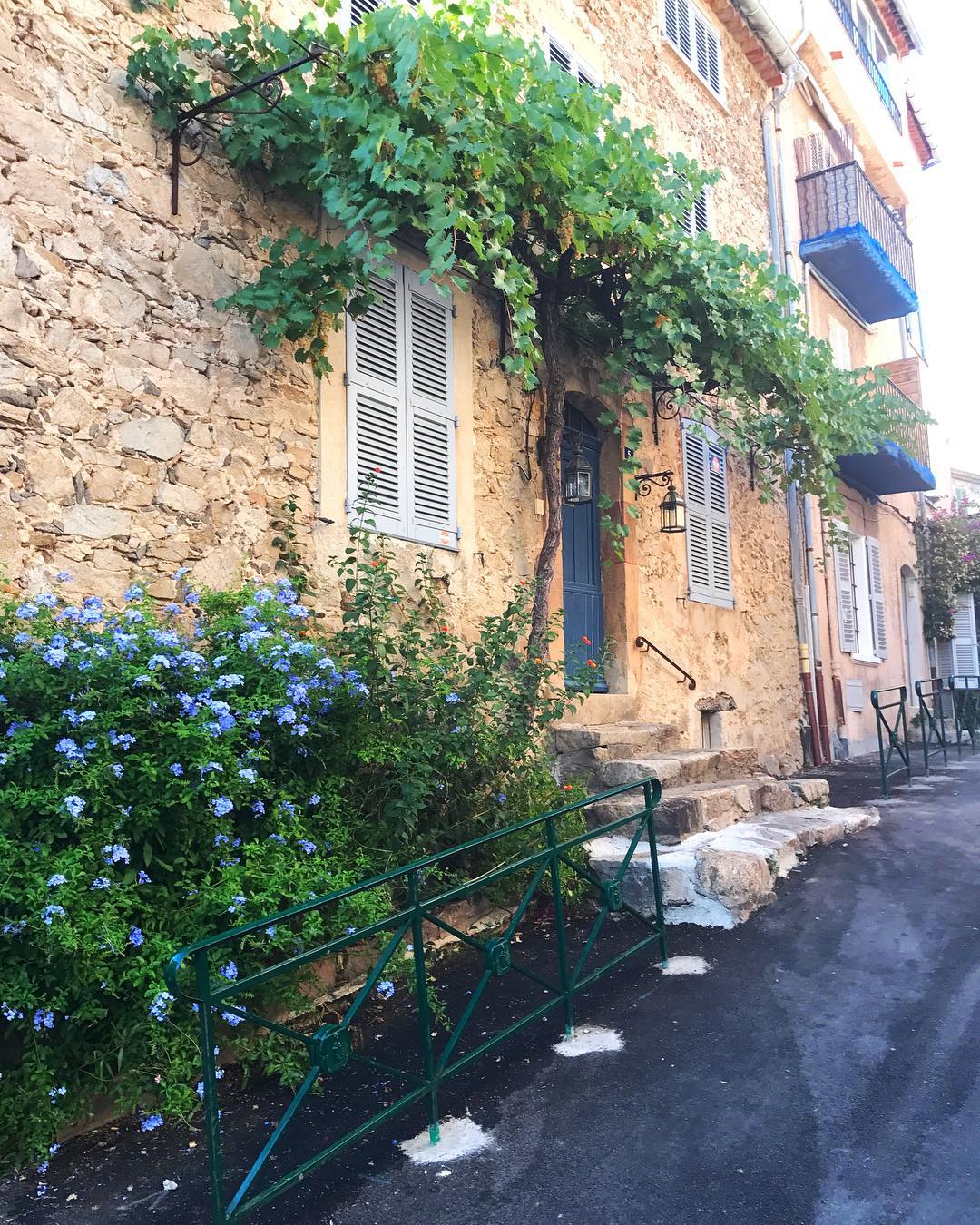 We flew direct into Nice and had our hotel, La Bastide Saint Tropez, schedule a car service to pick us up as soon as we arrived. I highly, highly recommend setting up a car service if you're looking to visit Saint Tropez. It's the easiest and most comfortable way to travel from the airport to the town. Or if you prefer to rent a car, that's also an option but there is no train station in Saint Tropez so it's the easiest way to get there. We didn't feel the need to rent a car as there are taxis everywhere and the train in the South of France is so easy to hop on and off.
Day One – R&R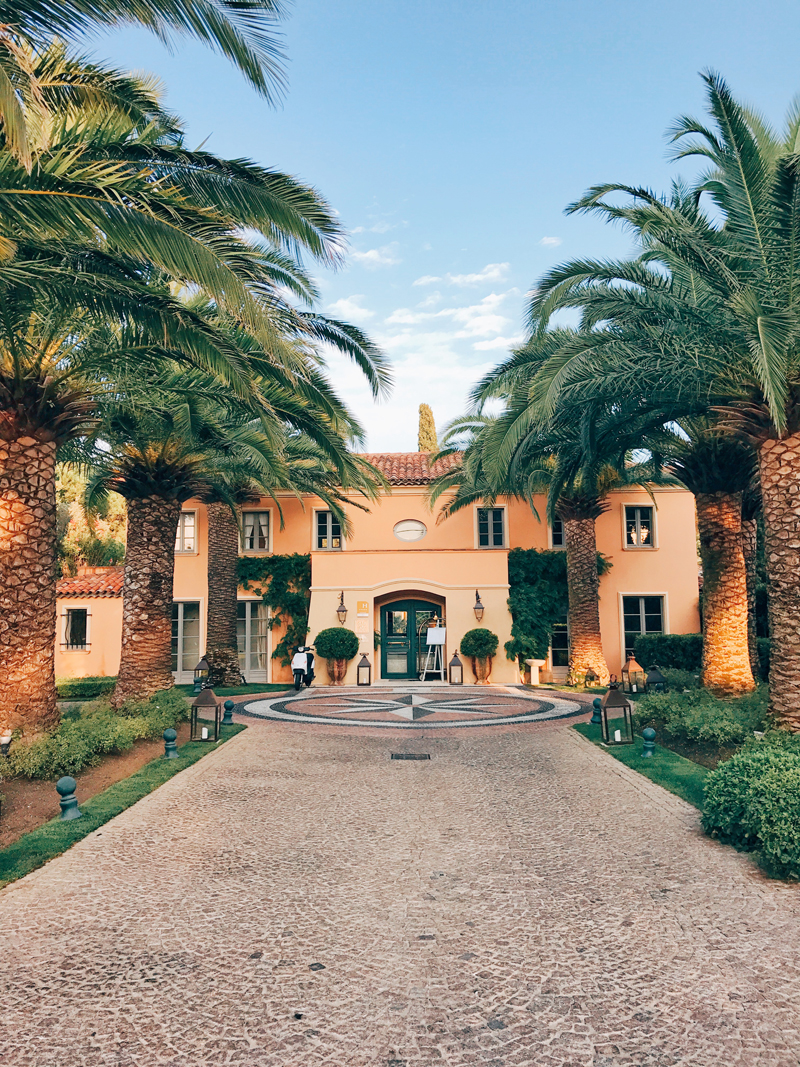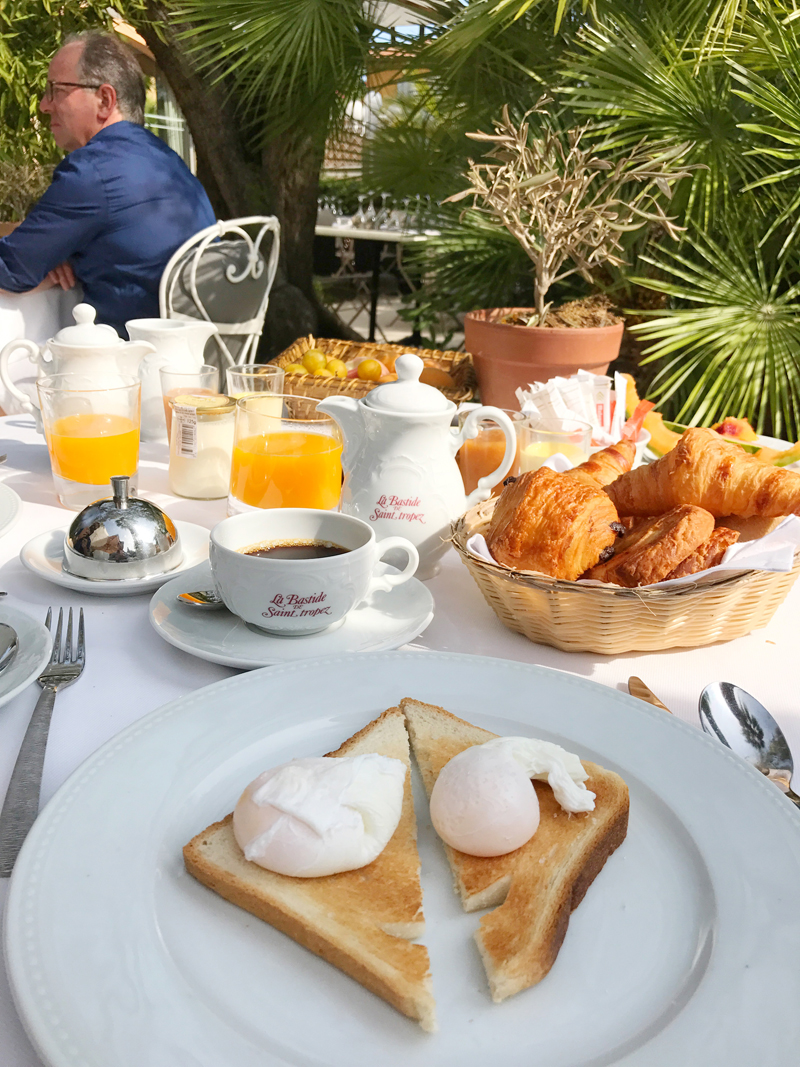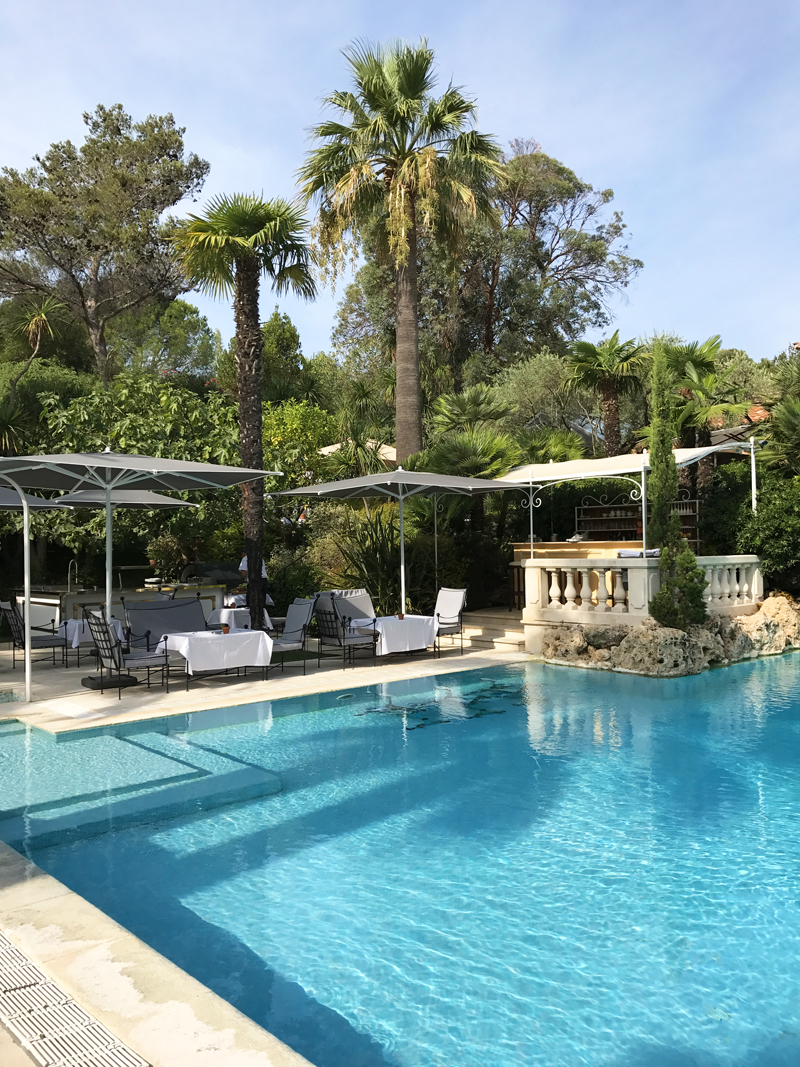 10:3AM Check in to La Bastide Saint Tropez, located a little outside the downtown area of Saint Tropez. La Bastide is a Relais and Chateaux property. There are only 10 rooms on the property and it seriously was so relaxing. Great way to kick off a South of France vacation!
1:00PM Lay out at the pool and grab lunch outside at the Le Bistro Restaurant located on the patio of La Bastide Saint Tropez. Must order the Pizza and Burrata!
5:00PM La Bastide has a car service that can transport you to the main city center. Recommend walking around the downtown area and walk around the port.
8:00PM Schedule taxi to pick you up from city center and transport you to Hotel Sezz which is a 5-Star Luxury Boutique Hotel. It reminds me a bit of the Hampton's like a Montauk Beach House Vibe. The restaurant in the hotel, Colette, was recommended by NY Times. The atmosphere was super chic, however, the food was not. Not sure if we ordered the wrong thing but this was one of the worst meals we had all trip. It's great for celebrity sighting or if you care more about a "scene". I would recommend eating at Le Det Vin or Cristina Saluni.
Day Two – Beach Club 101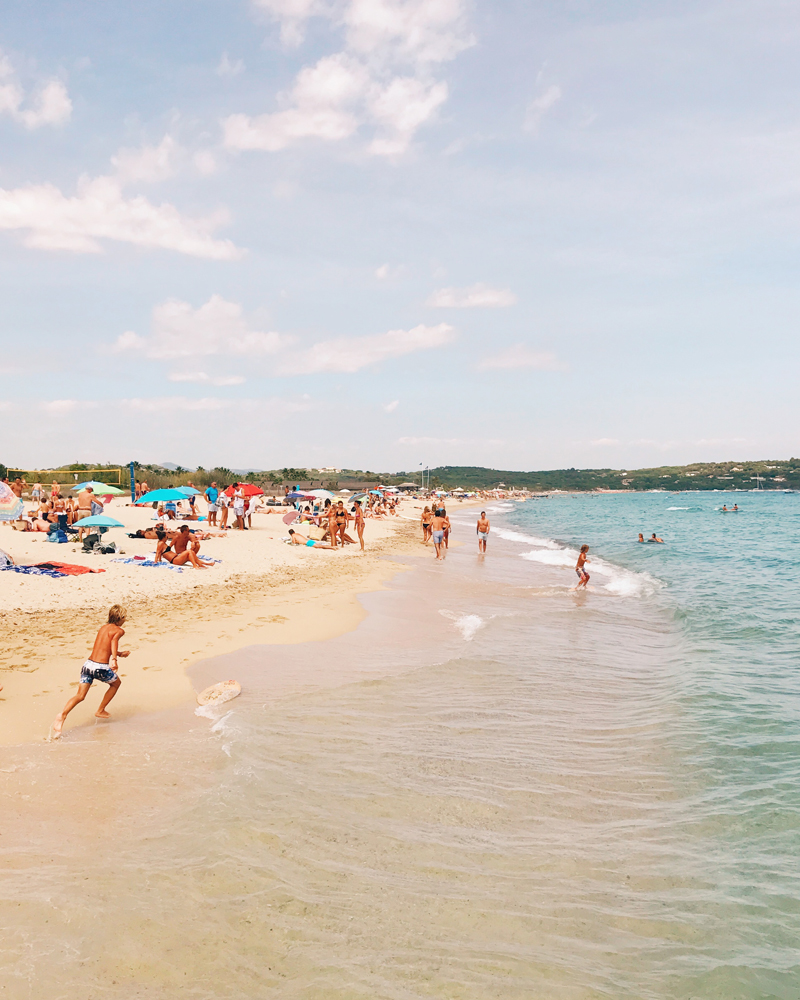 10:00AM Taxi to Club 55, the best beach club in the Pampelonne. We highly recommend getting there before 10am (or earlier!). You must have a reservation as well especially if you're traveling in the month of August. We arrived about 11:30 and was a bit late to the game as our beds were further back from the ocean. Another key tip is you must bring towels! We made the mistake of assuming we could either buy or rent towels for the day. Luckily Club 55 has a little beach side boutique where we picked up 2 turkish towels for $25 euros each. I'll be doing a whole other blog post on Club 55 as it was a major highlight for us!
1:30PM Sit down for lunch at the main restaurant at Club 55. We learned that tourists and locals alike sit down to lunch way later than we are used to in Manhattan. Order the fish for two, paella and a bottle of whispering angel.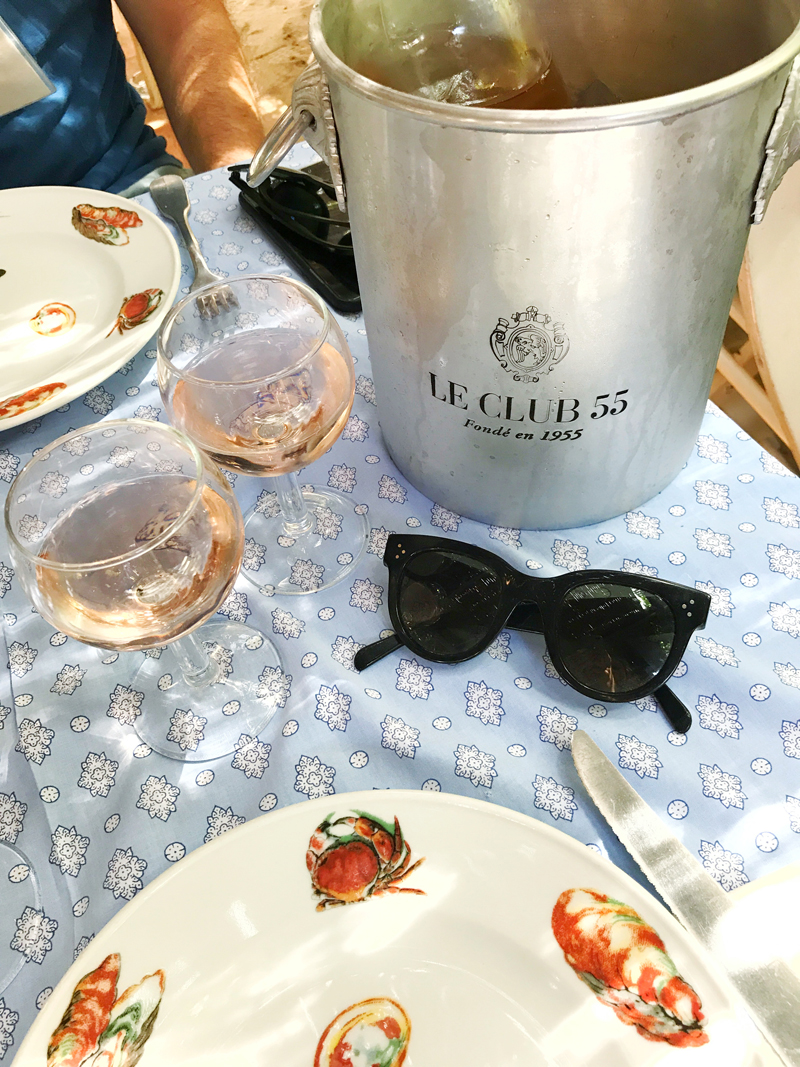 3:30PM Go back to the beach chairs to soak up the rest of the day!
8:00PM Dinner at Hotel Byblos, one of the hottest hotels in Saint Tropez. Order the pizza and tapas. We also recommend looking up any events Hotel Byblos may have going on the days you're in town.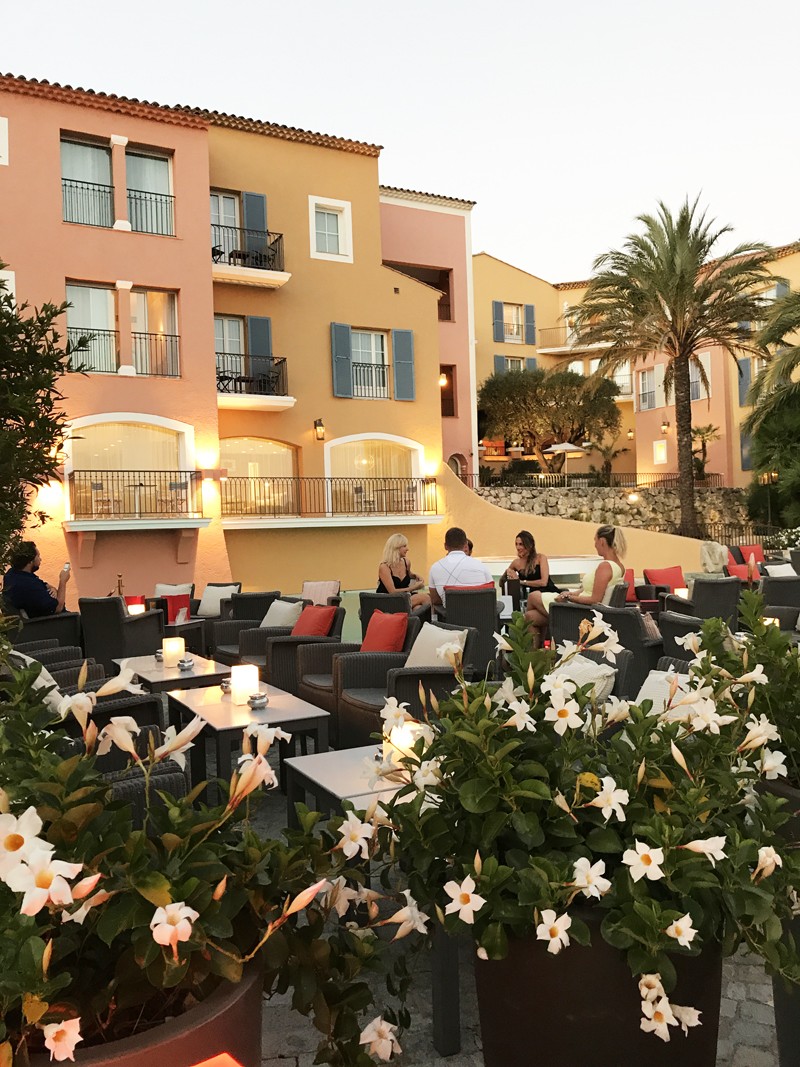 Day Three – Shopping & Sight Seeing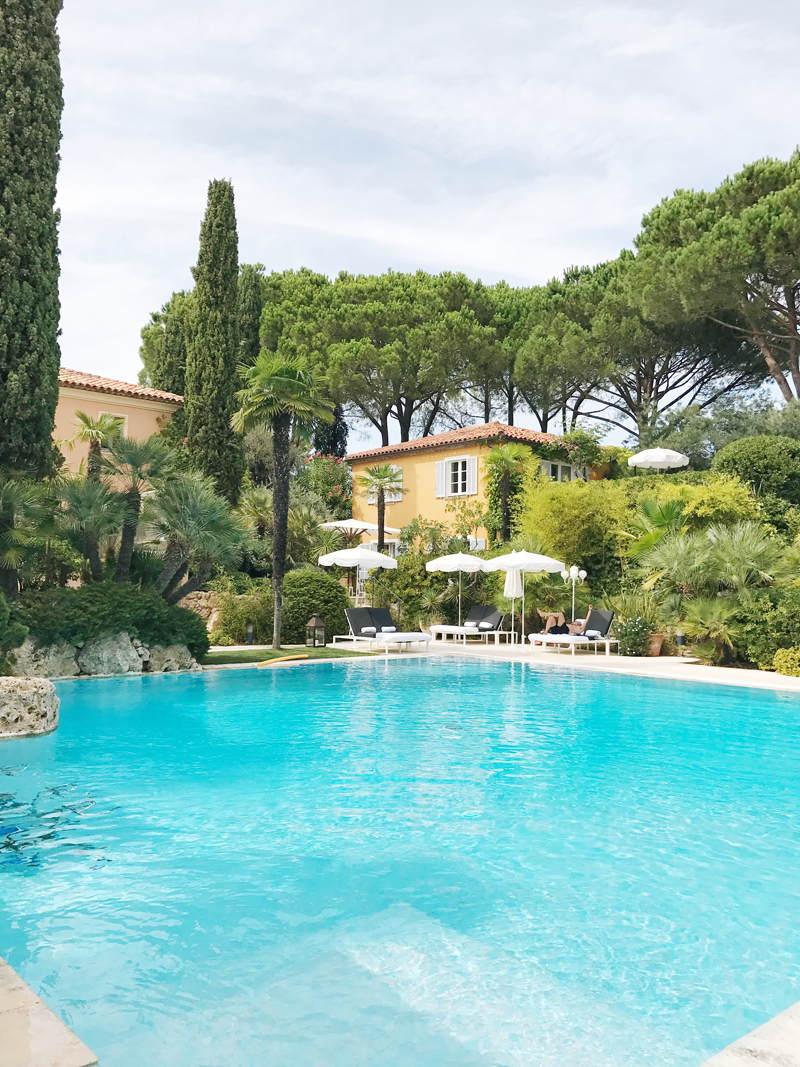 9:00-11:00AM Breakfast and lay out at the pool at La Bastide.
12:00PM Head to town for lunch at Senequire, one of the best cafes for people watching in town. After lunch shop around the winding streets of town. You must stop by L'aubier, a little shop located on the edge of town. I picked up so many market totes and little clutches for friends and family! Plus the market totes were under $20 euros, you really can't beat it.
3:00PM Grab Ice Cream at Barbarac and walk around the port. Barbarac was the best gelato we had all trip!
5:00PM Book a 1 hour tour on the Brigantine II. There's a little stand located across the street from Cafe de Paris on the port where you can book a ticket for $12.50 Euros. Run by a husband and wife, it's a great crash course in the history of Saint Tropez and some of the most amazing views! The captain does both French and American translations.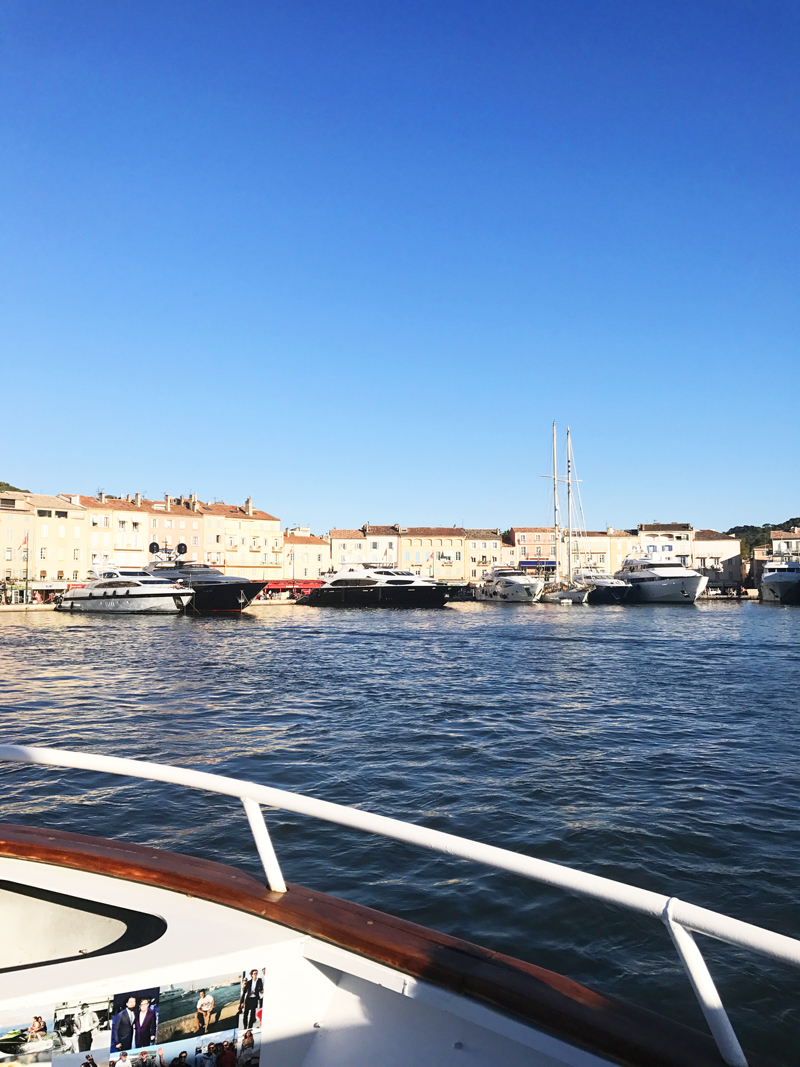 8:00PM Dinner at Au Caprice des Deux. Ok you guys, this was one of our best meals in France. You HAVE to eat here and order the truffle risotto. So. So. Good.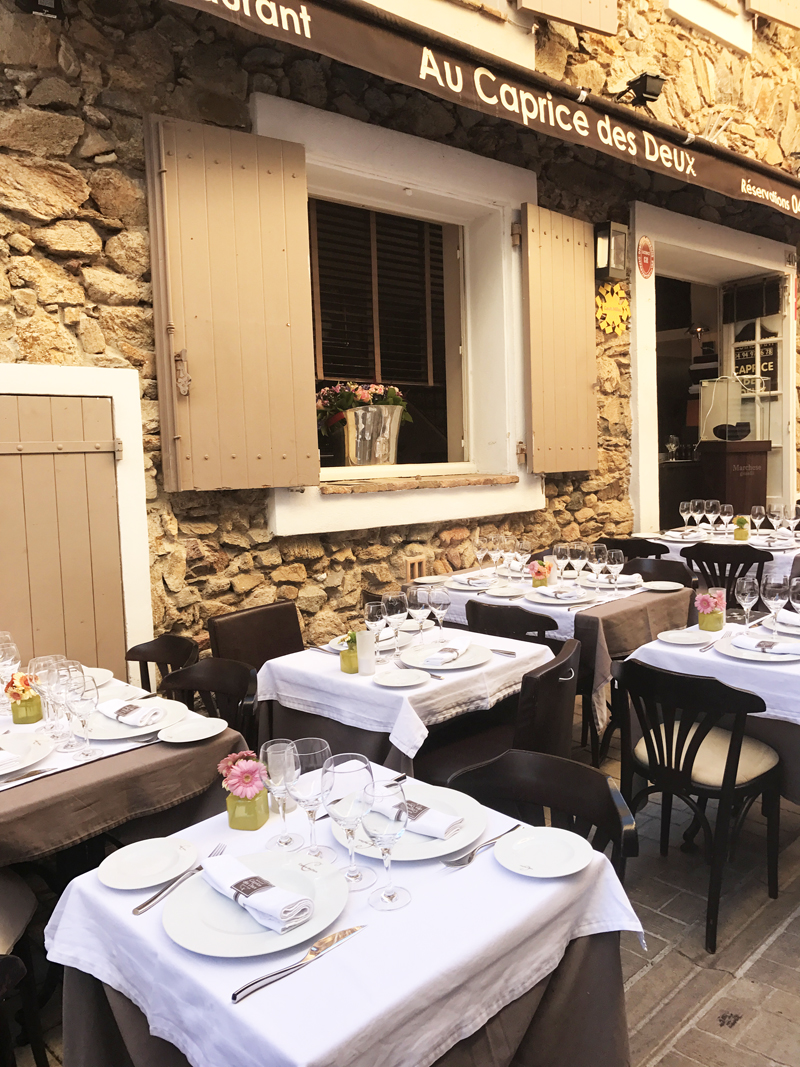 Day Four – Market Day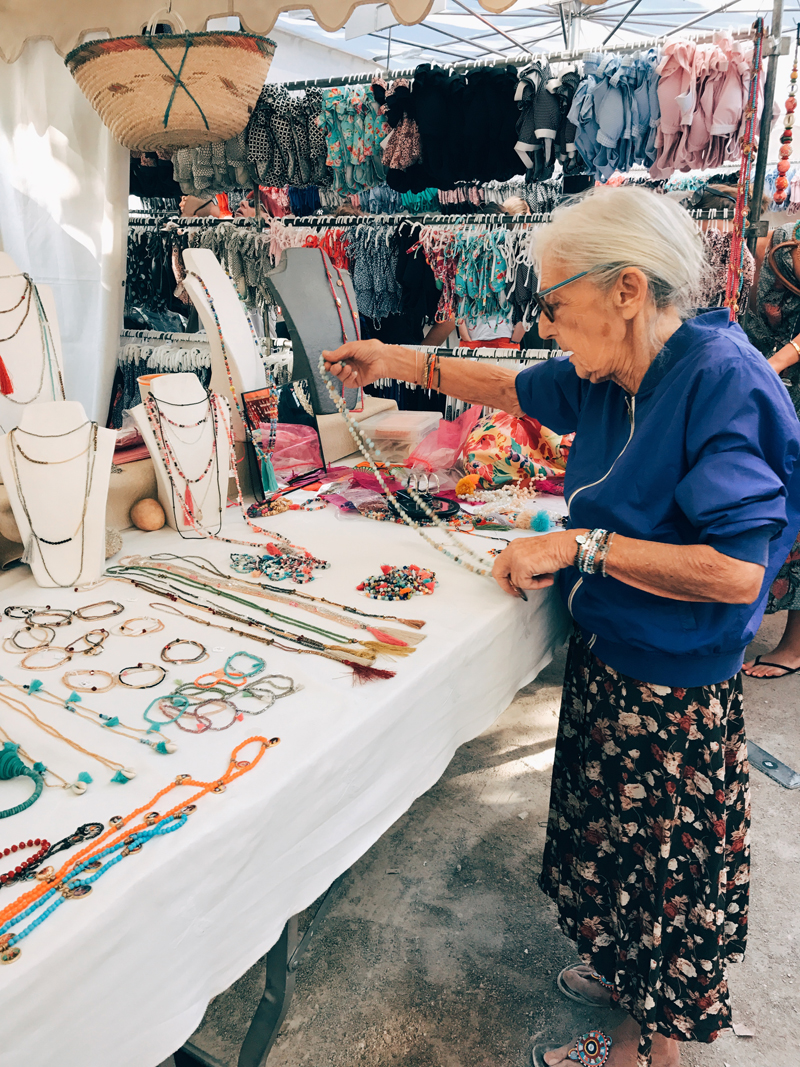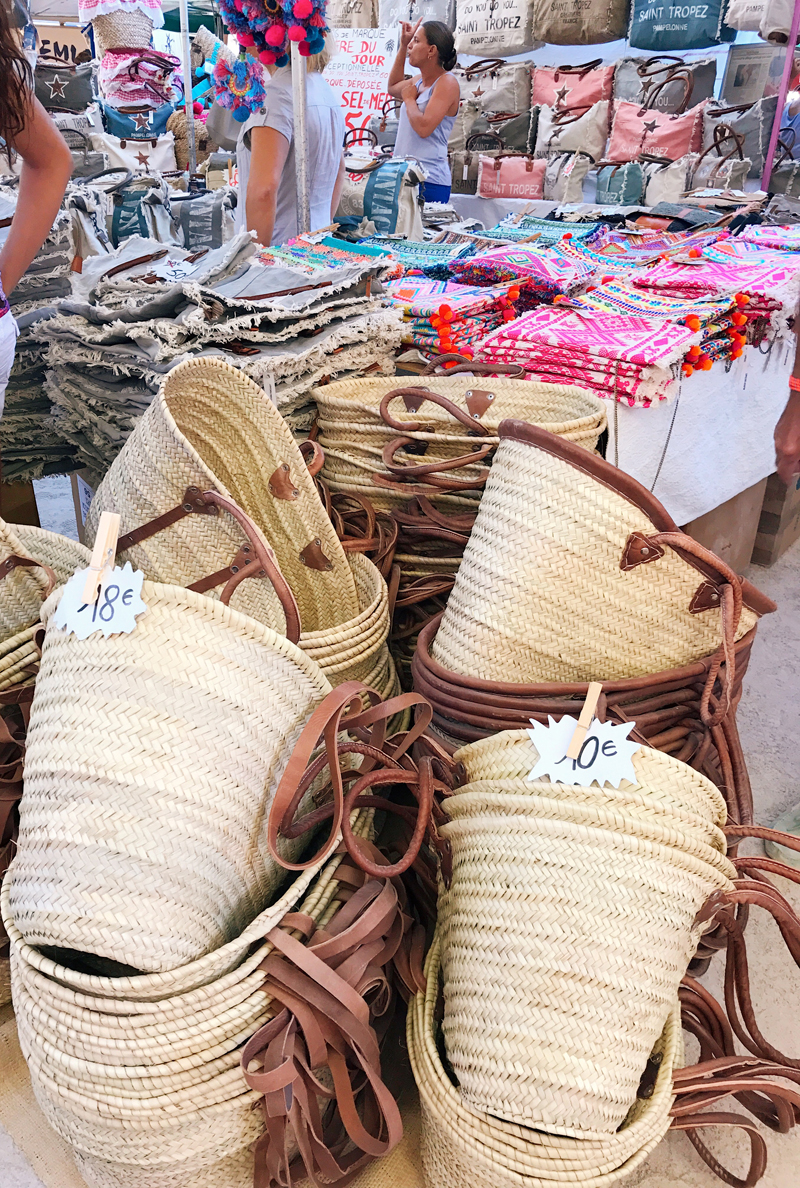 8:00AM Take taxi to Place de Lis, the center of town where a local market is held on Wednesday and Thursday mornings. This was one of my favorite markets we visited in all of France! There were endless colorful clutches, market totes with pom moms, linens, soaps, and more. I highly recommend getting to the market before 10AM as the market tends to be unbearable with how many people are trying to walk down the narrow isles.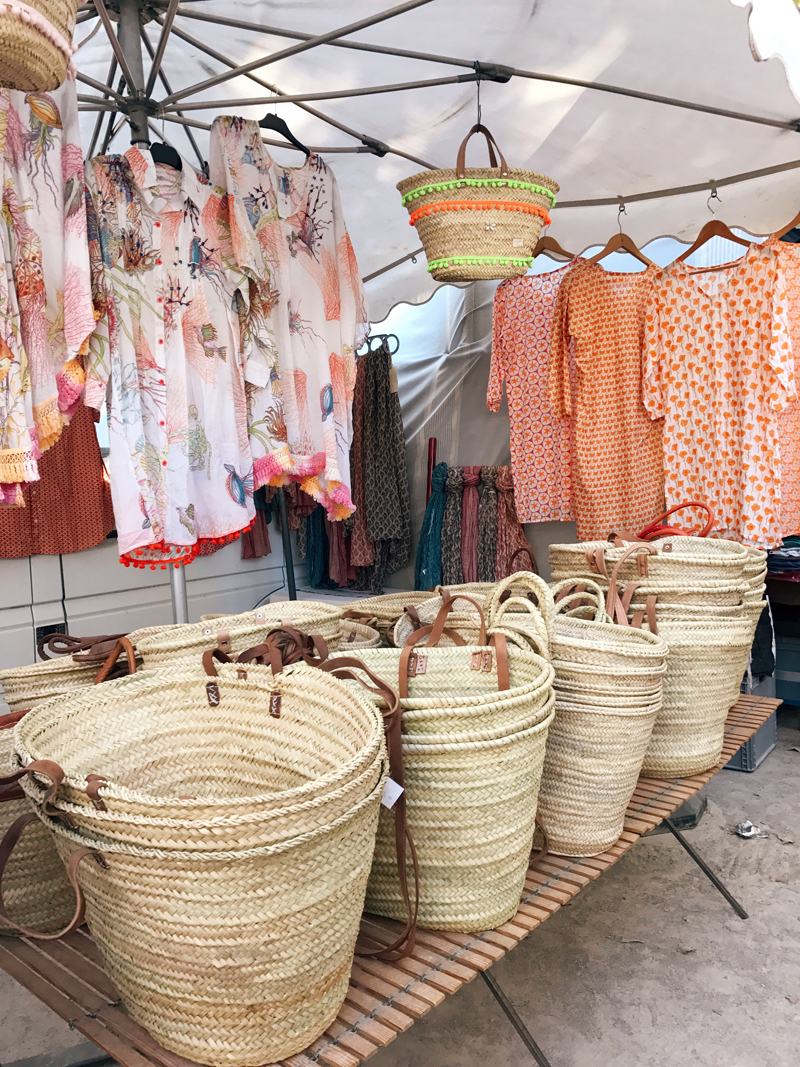 12:00PM Check out of hotel and set up car service up the coast to Antibes.
Key Travel Tips For Saint Tropez
Make sure to always have a lunch or dinner reservation! It doesn't matter if you show up 30 minutes late to the reservation, we made the mistake of not always have a dinner reservation and some of the restaurants wouldn't sit us.
Saint Tropez is expensive, especially the cabs. If we ended up going to a hotel not close to the city center or traveling to Club 55 for example, the taxis could range anywhere between 25-30 Euros. Wish someone had told me this prior!
If you would prefer to stay right in town, there are several hotel options but only 2 Relais and Chateaux in Saint Tropez.
If we did the trip over again, we would schedule 2 days at Club 55 or 1 day at Club 55 and then a second beach day at Nikki Beach.
Be careful to travel to Saint Tropez on the market days as traffic getting in to town can be a nightmare! Highly recommend traveling to Saint Tropez on a non-market day.
Kgift
I hope this itinerary helps plan your next trip! Check back later this week for my Antibes travel guide! Xo. Lauren