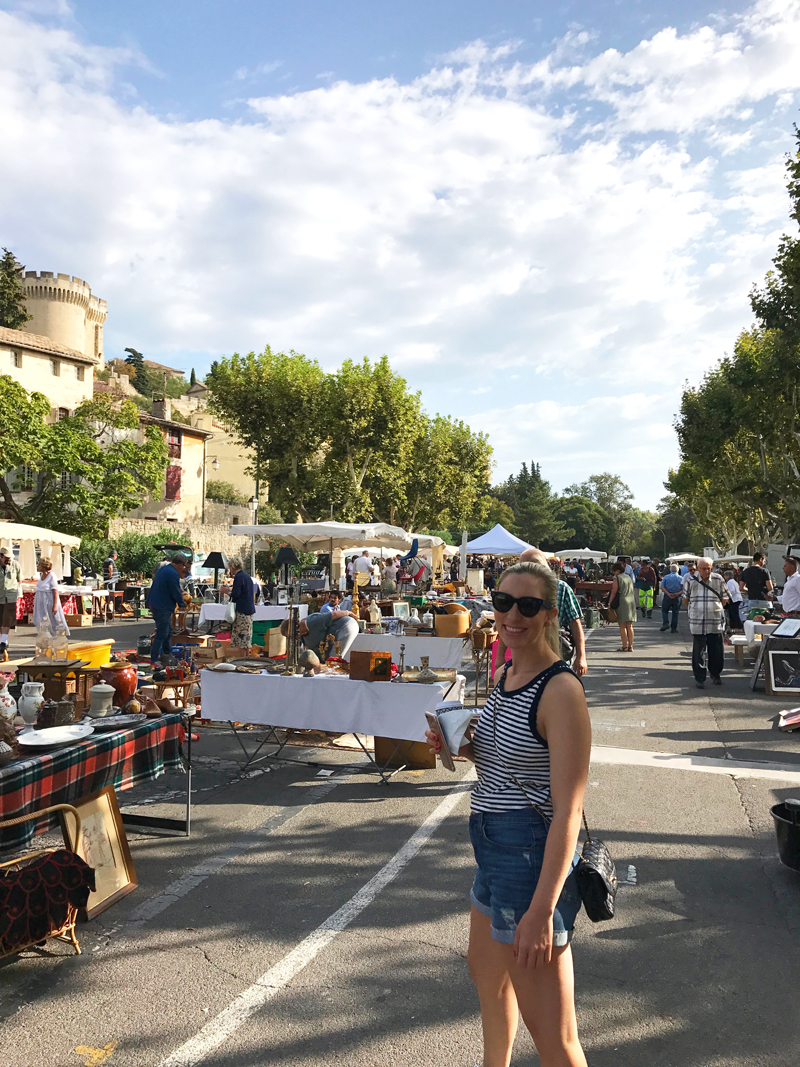 If there is one thing my mom has taught me about decorating is that you can always find whatever you're looking for at the flea market. One of the biggest reasons I wanted to fit Provence in our very busy 12-day tour around France was the flea markets.
So there we were, one very bright and early Saturday morning making our way to the Villeneuve-les-Avingon flea market. As I mentioned yesterday, we were staying at La Mirande Hotel located right downtown Avignon. We ordered an Uber and made our way over to the famous Avignon Flea Market with the backdrop of a stunning 700 years old medieval city.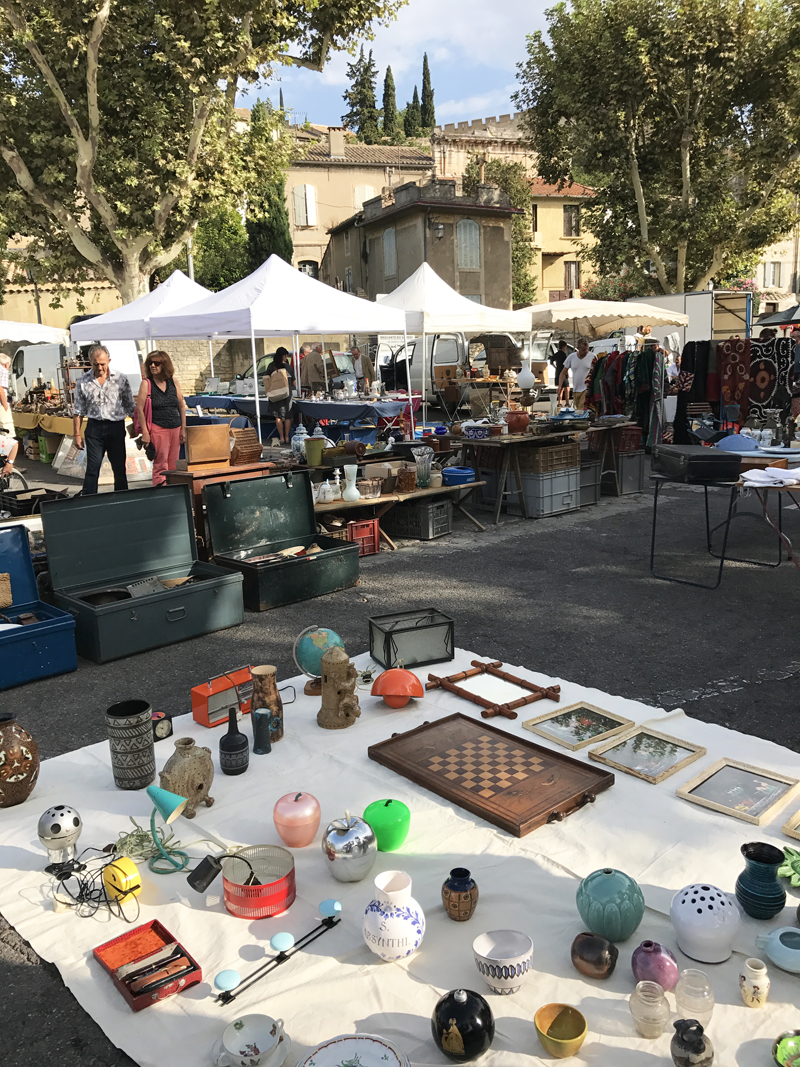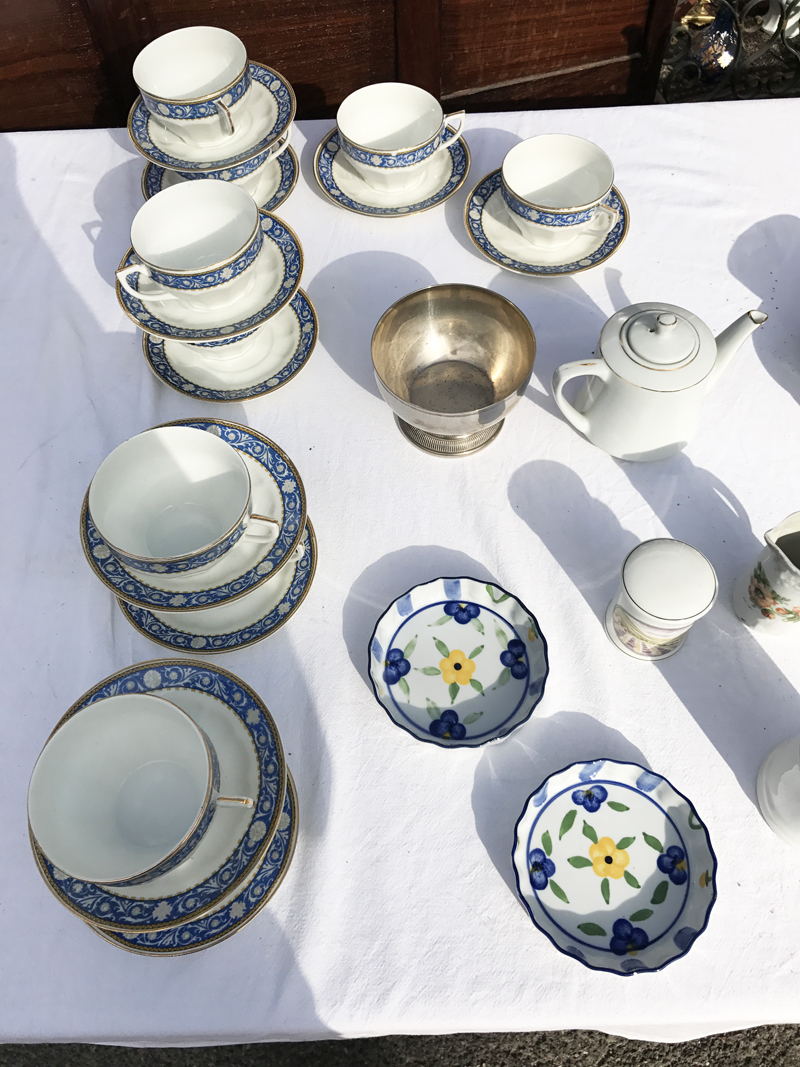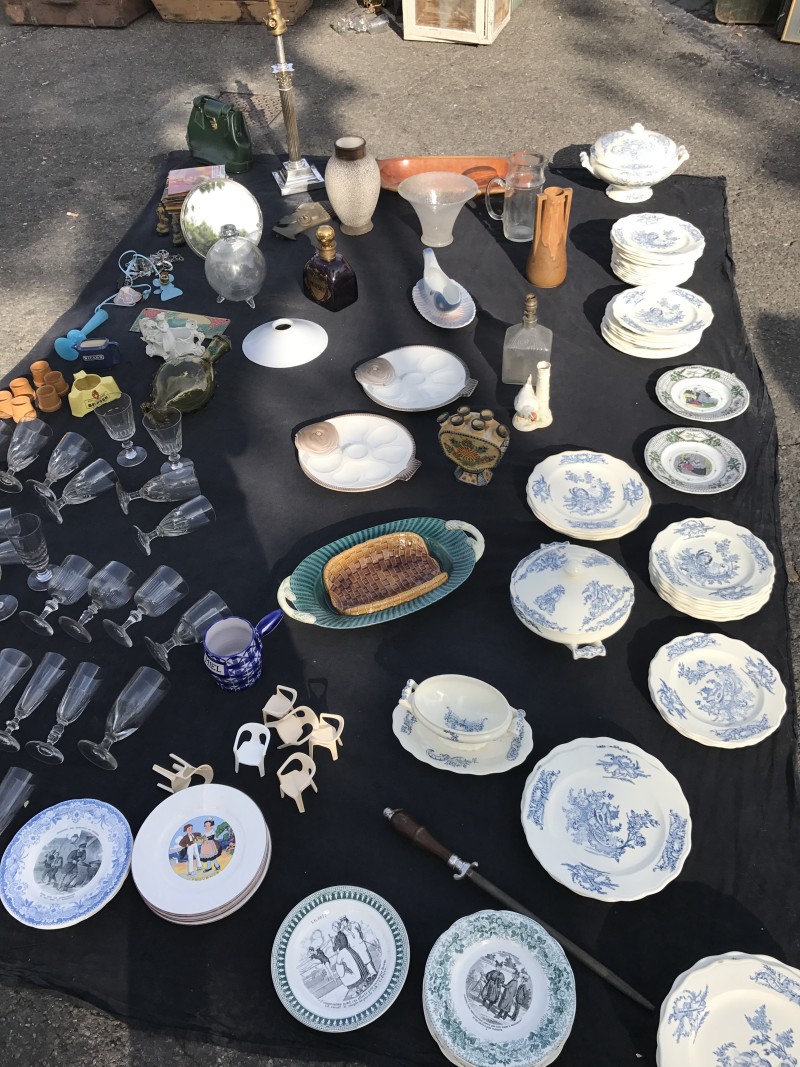 One of the main reasons we picked staying in Avignon was because of the Saturday flea market. It's one of the best known markets in all of Southern France. There's plenty of dealers with interesting goods. The vendors vary throughout the year selling everything from large pieces of furniture to porcelain plates to Provencal fabrics.
My poor but very cute boyfriend patiently walked up and down each and every aisle with me until we made our way through the entire flea market. We both happily agreed that shopping the Provence flea markets would make for the perfect mom and daughter trip or girls trip.

Luckily, I ended buying a vintage blue and white table cloth that perfectly compliments my little dinning room table here on the Upper East Side. As I write this I am kicking myself that I didn't buy more! What I was most surprised about was how popular hand sewn monogrammed duvet covers were over there. Many of the female vendors had them on display. Vintage oil paintings were all over the place, too. If only I had more room in my suite case!
On another note, It was very hard to negotiate in French. I ended up googling certain words to get a better understanding of what we were actually buying (i.e. what is vintage in french?!)
All in all it was a winning trip to my very first Provence flea market and I cannot wait to get back!!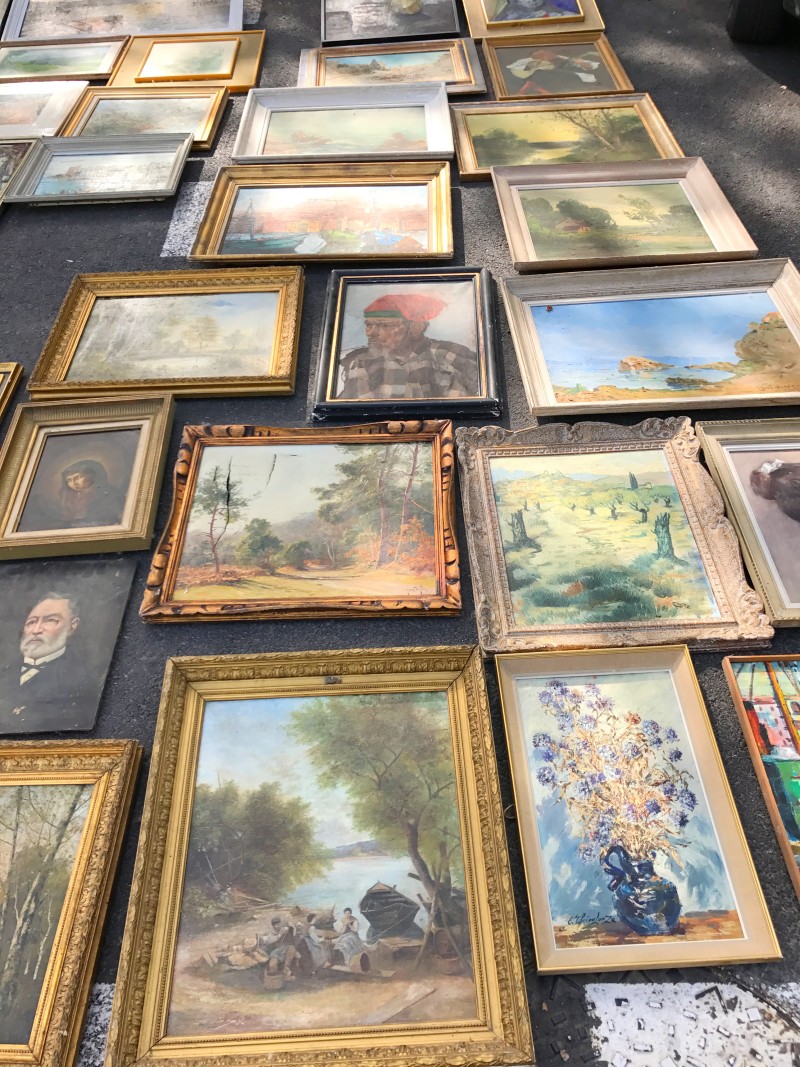 There are a few things I did learn along the way so I thought it would be helpful to share my key tips on navigating the Provence flea markets right here! First and foremost, I would rent a car and stay an entire week in Provence in order to make it to all of the major flea markets in the region. The major markets happen during different days of the week so I would plan my next trip around the market days.
Key Tips For Navigating The Provence Flea Markets 
Villeneuve-les-Avignon 
The Villeneuve-les-Avignon market takes place every Saturday morning. It's key to get there bright and early before the market gets too crowded to enjoy. This market occurs every Saturday throughout the year (including holidays) from 6am – 3pm. This market is great if you love vintage furniture, fabrics, kitchenware and more.
L'Isle sur La Sorgue
L'Isle sur La Sorgue is the most famous flea market and antique town in Provence. We didn't end up making it here because the big market day occurs on Sunday and we unfortunately had to catch a train to Paris. What is important to note is that if you don't make it to market day, you can still visit the town as many of the shops are still open. This is the one thing I wish I knew ahead of time!!! Easter weekend and August 15th is when the International Antiques Fair takes place attracting clientele from around the world. Mark your calendars, ladies!
With this market in particular, many of the vendors have shippers ready on-hand to give you a quote based on the size and weight of the product. And if you're buying larger items, it's must more cost effective to fill a create.
Be sure to grab lunch at Le Jardin du Quai after hunting.
Saint Remy de Provence
St. Remy is another very popular flea market in the Provence region and occurs on Wednesday mornings. From what I've heard about the St Remy de Provence market is that it has an endless sprawl of cheeses and olives, fresh vegetables and charcuterie. The market sets up around 9 in the morning and crawls along the Boulevard Marceau towards the heart of the town.
Aix-de-Provence 
This is another main part of the region I would love to explore next trip. The town of Aix-en-Provence has numerous markets throughout the week. I would love to visit the markets that take place in Cours Mirabeau on Saturdays for Provencal textiles. For antiques and bric-a-brac, the markets on Tuesday, Thursday, and Saturday mornings in Place de Verdun seem to be the best.