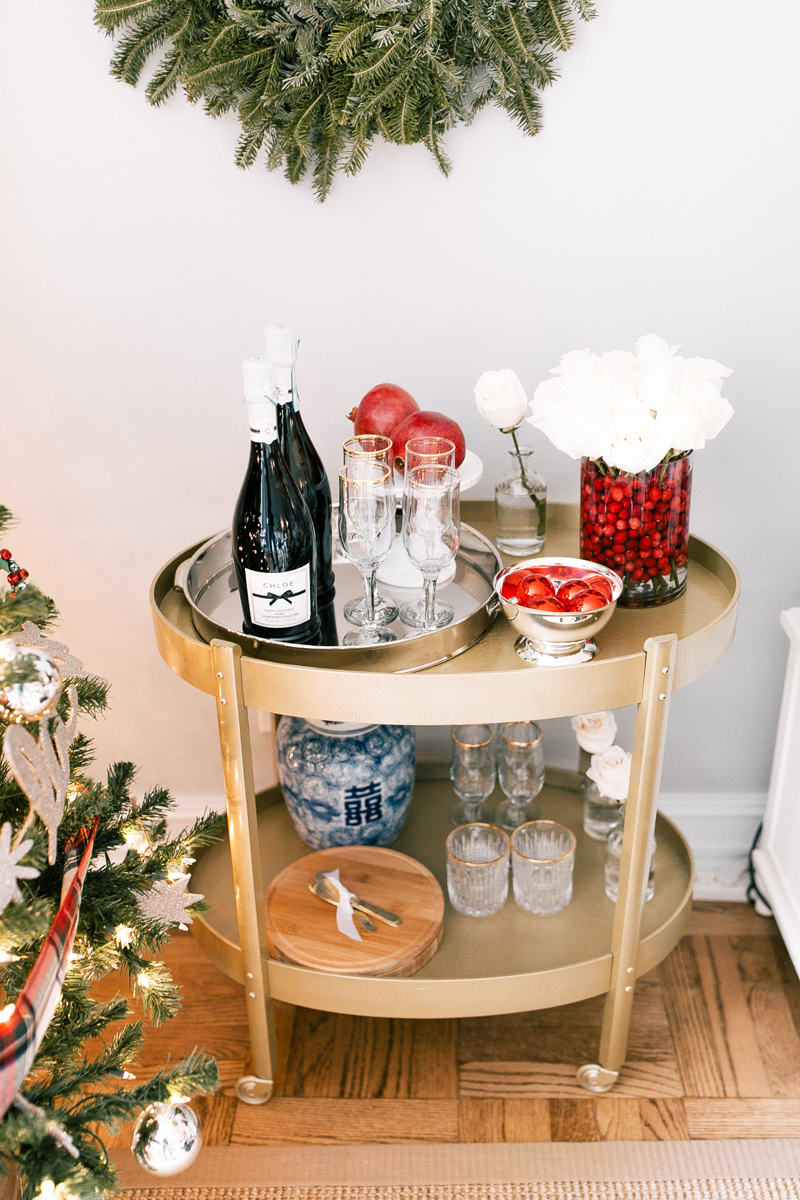 There's nothing I love more than decorating and prepping for the upcoming holiday season. Each year around October, I start to brainstorm my holiday decor.  From ribbon and ornaments to champagne flutes and festive dinner plates, there's so much that can go into prepping for the holidays, but I love it so much! Not only do I want to make sure I have all the right entertaining essentials, I also like to nail down my theme in October, too! This year I went with a classic holiday look — silver with touches of red. Today I'm so excited to share 4 easy tips that can easily enhance our holiday style!
1. Order Custom Chloe Wine Labels For Your Holiday Party
 Whenever I host friends over for dinner or a holiday party, I always make sure to add a personal touch. Whether this be through ordering custom wine tags, creating a custom cocktail for the evening or having sweets for guests to take home, adding a personal touch will be what your guests remember! Most recently I ordered Chloe Wine Collection's custom wine labels for a cocktail party I hosted at my apartment that people LOVED! Did you know when you purchase any Chloe Wine, you can order custom labels — for free?! Not only were the labels a hit at the party when I was pouring glasses of prosecco, I created labels for each one of my guests and sent my friends home with their own personal bottle of Chloe Prosecco – so cute, right? Requesting a custom wine label is super simple! All you have to do is head on over to the Chloe website to make a label for your preferred varietal and allow for 7-10 business days to arrive! Make sure to order by December 14th to get in time before Christmas!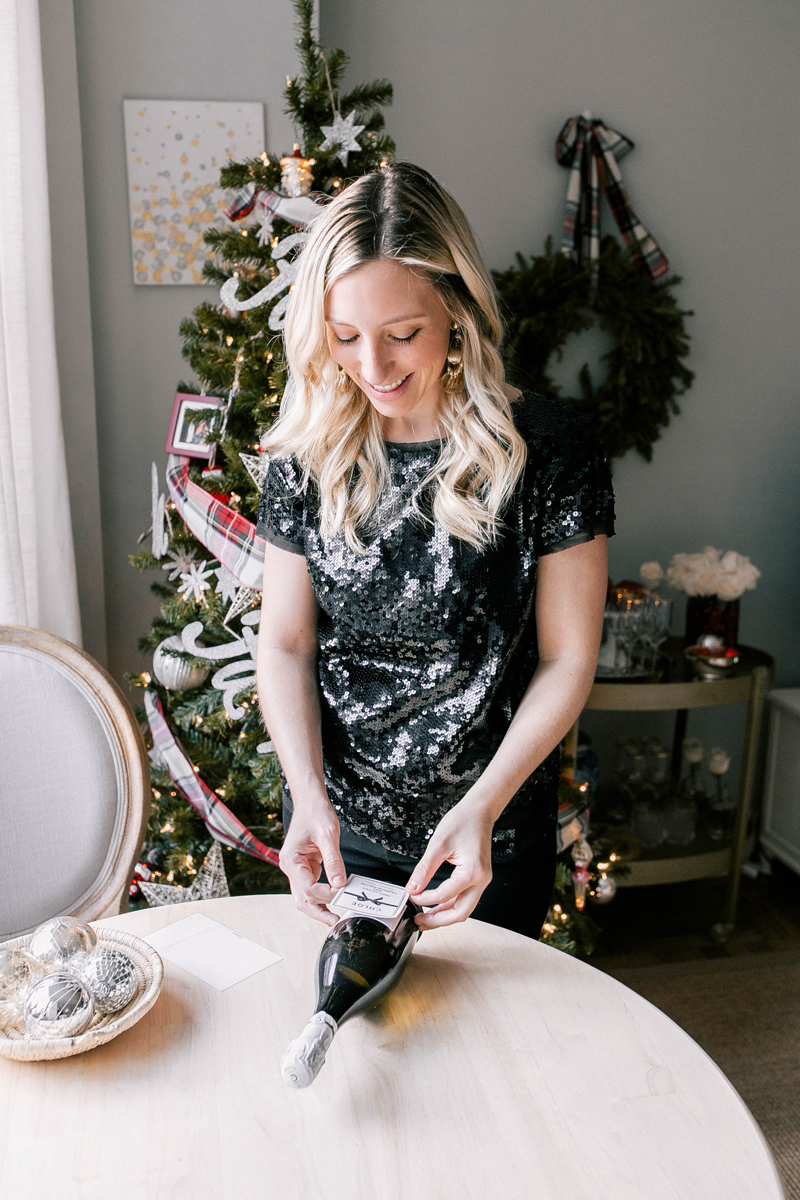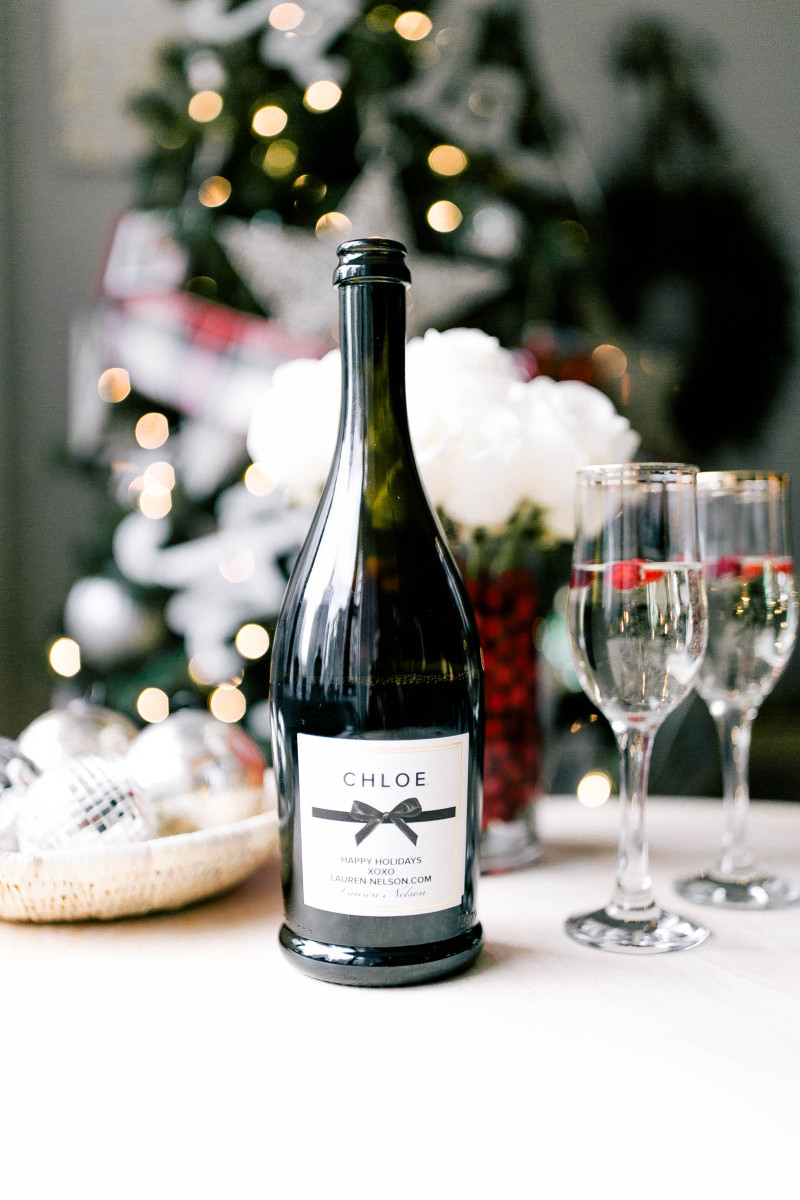 2. Create a Holiday Flower Arrangement
My next tip on how to easily enhance your holiday style is by creating a holiday flower arrangement! This year I bought two bunches of white roses and created a pomegranate centerpiece. The pomagranates instantly enhanced my flower arrangement and looked beautiful next to my prosecco display – where I also included a few pomegranates in the prosecco! Pro Tip – fill your vase up with the pomegranates first before adding water! It will be much easier to arrange the roses within the vase vs. filling it up with water first.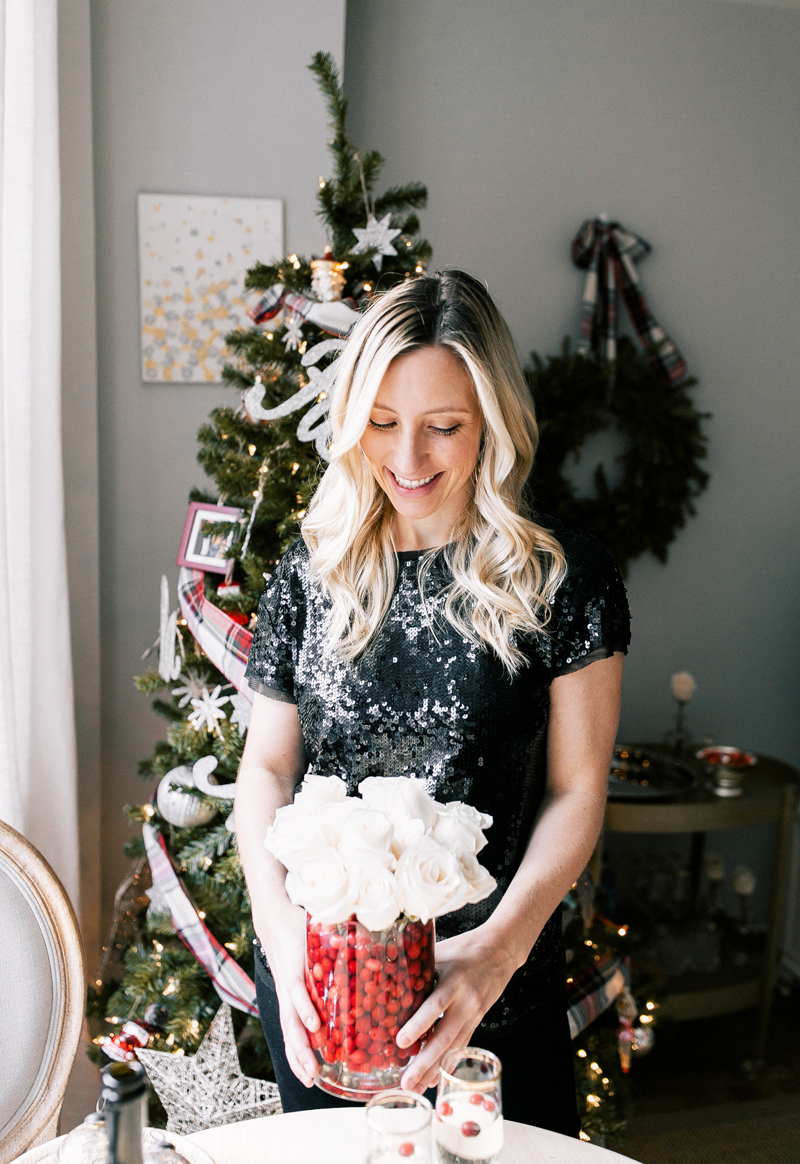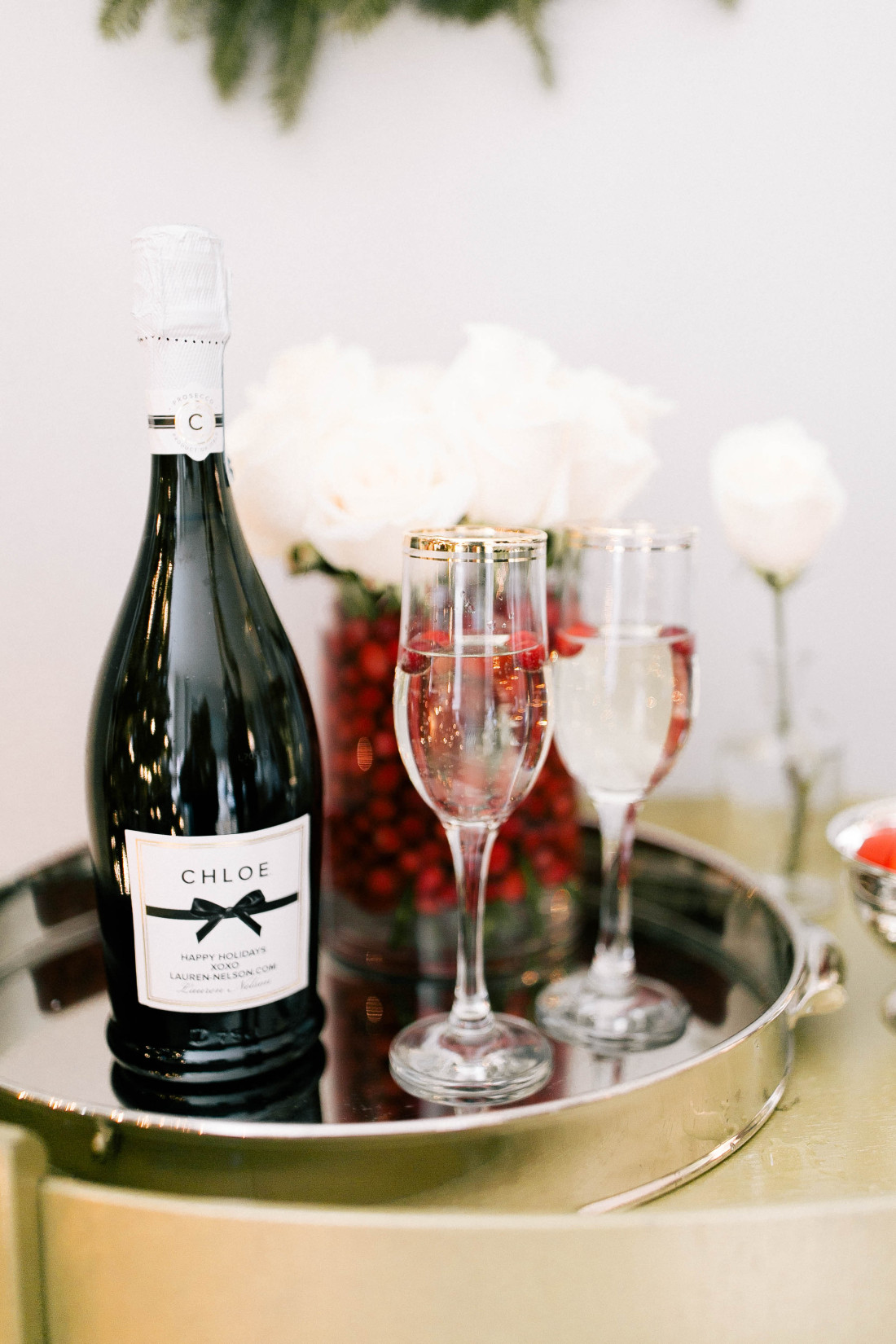 3. Accessorize With Pomegranates 
I stole this next tip from Pinterest! Did you know you can accessorize your holiday table scape and bar cart with whole pomegranates? I included them in my bar cart styling and placed them on a little cake stand I picked up from Horchow. I loved the way the pomegranates brought a touch of holiday red to my bar cart. You can also buy these in bulk and place them in large bowls to use a centerpiece on your dinner or end tables!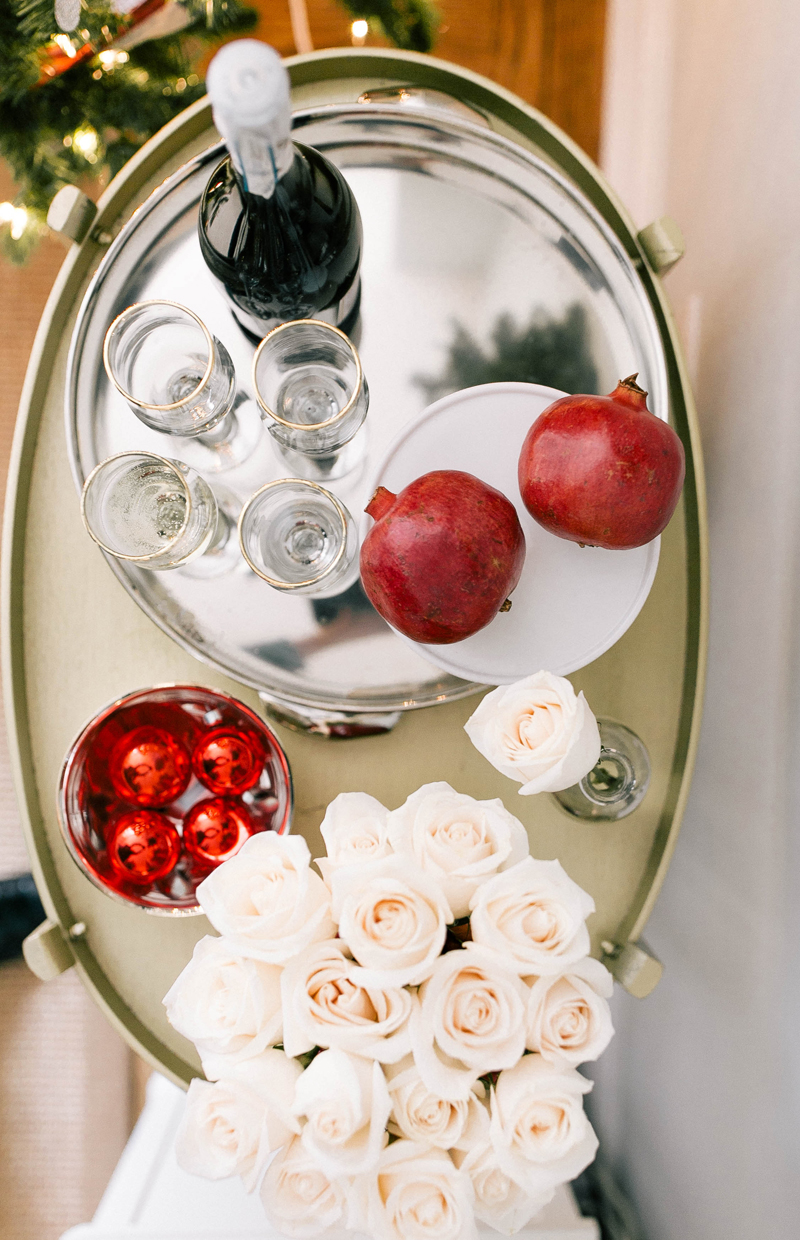 4. Pick Up A Fresh Wreath At Your Local Market or Grocery Store
Living in New York during the holiday season is the best. So many neighborhood corners are home to tree stands where city residents can pick up trees and holiday wreaths for their apartment. Not only can you pick out the size of the tree, the majority of the tree stands can deliver straight to your door, too! This year I picked up two fresh wreaths at my local stand that I hung with a plaid ribbon. I love the simplicity of the natural greenery paired with a plaid holiday bow that instantly elevates my holiday decor. Picking up a fresh wreath at your local market or grocery store is an affordable way to decorate this holiday season!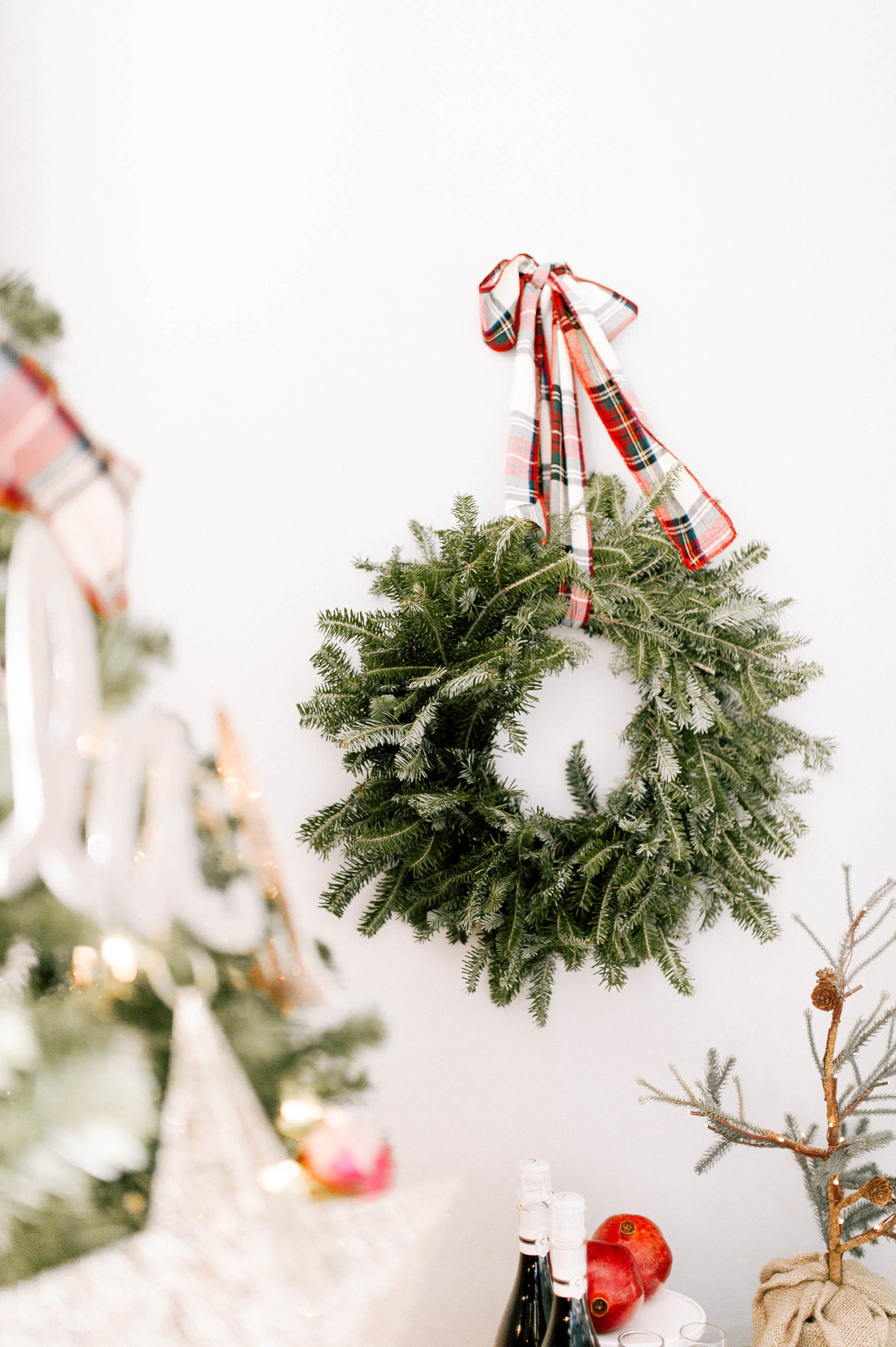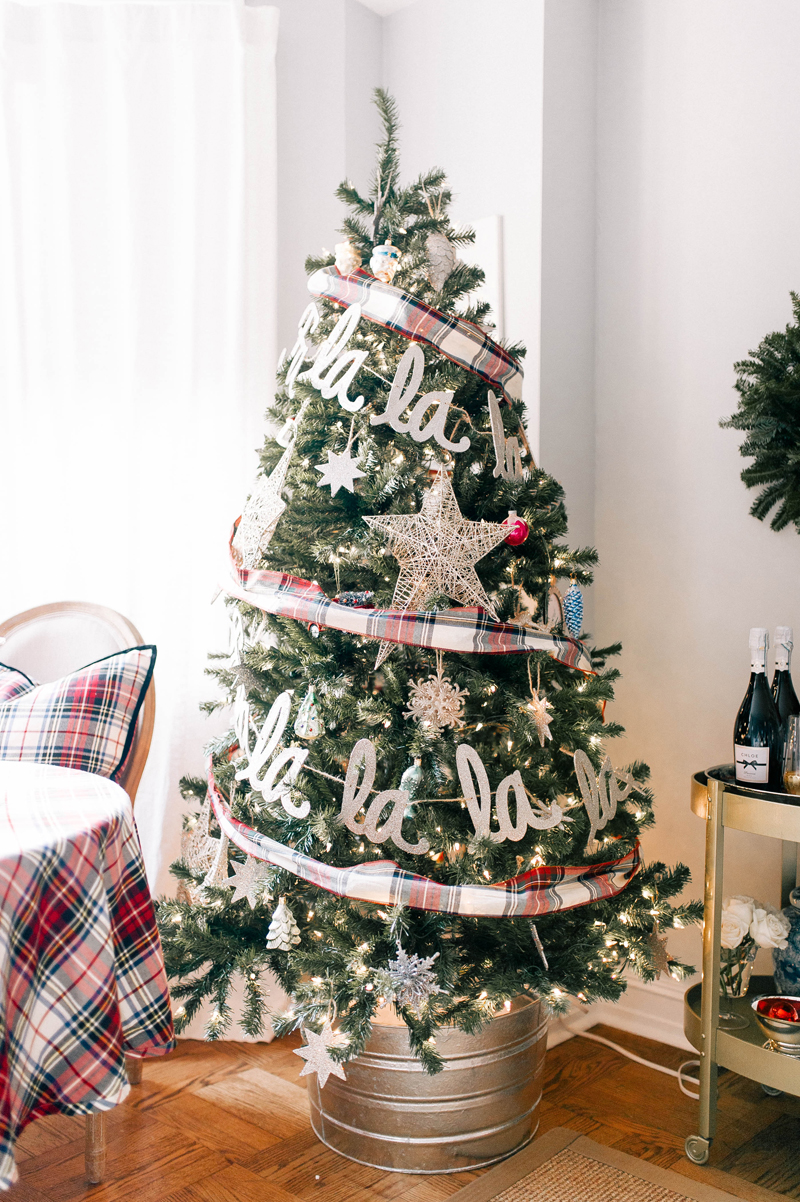 What are some of your favorite tips to enhancing your holiday decor? Xo. Lauren
*In partnership with Chloe Wine Collection. Thank you for supporting brands that support Lauren-Nelson.com!