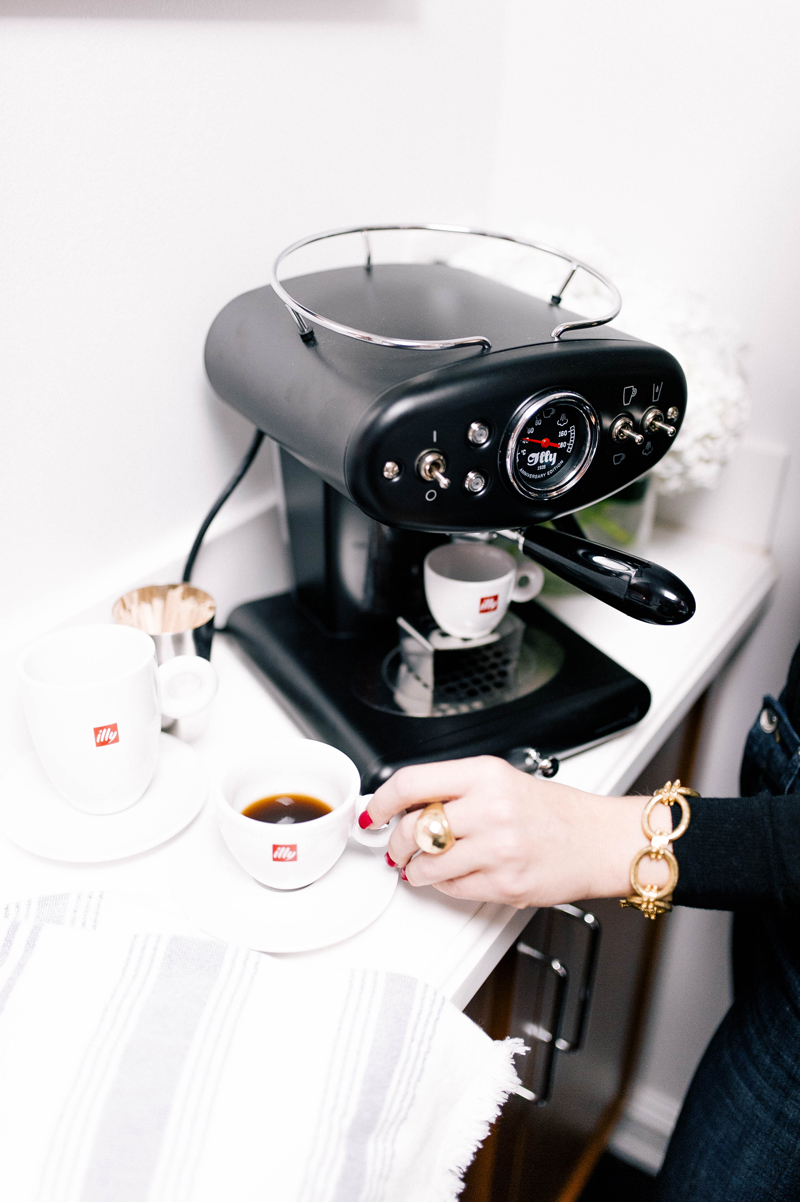 If you or anyone in your family is a huge coffee or espresso drinker, the iconic illy X1 Anniversaymachine would make the perfect holiday gift to give (or get!) this holiday season! You guys, I swear you will be obsessed..
A few weeks ago I had the chance to meet with illy caffe's master baristas, Giorgio, who gave me a full tutorial on how to use the X1 Anniversary machine. Not only does the X1 Anniversary machine allows you to make single cups of coffee and espresso, I can happily report that I can now make cappuccinos and lattes! Steaming milk with this machine is way easier than you might think.  This is a big deal for me because prior to partnering with illy, I had a basic coffee pot — for years!!!
The X1 machine has officially changed my morning routine. I love waking up and based on my mood or how tired I am, I'll make a cup of coffee, espresso or almond milk latte. Yes, an almond milk latte – either hot or iced! My favorite aspect about the machine is that it comes with a  steam/hot water wand to froth milk for creamy cappuccinos and lattes, as well as steam hot water for tea. No more $4 dollar Starbucks coffee for me before work!
I also learned that the X1 Anniversary machine was created more than 20 years ago which blazed the path for in-home espresso makers. We all know how popular single cup coffee and espresso machines are. What makes this one the best that I've used to-date is that it holds 5 patents developed for home espresso brewing at the illycaffè Research & Innovation labs in Trieste, Italy. You can tell the quality and the aroma of the espresso is better than any other machine.
To get more information and to shop the X1 Anniversary Edition for the Iperespresso system, check out www.illy.com and at illy caffè coffee bars and shops. It's also available in three finishes: Stainless Steel ($695), Matte Black ($595), and Red ($595). I have the black! You will not be disappointed. I hope everyone has a great week! Xo. Lauren