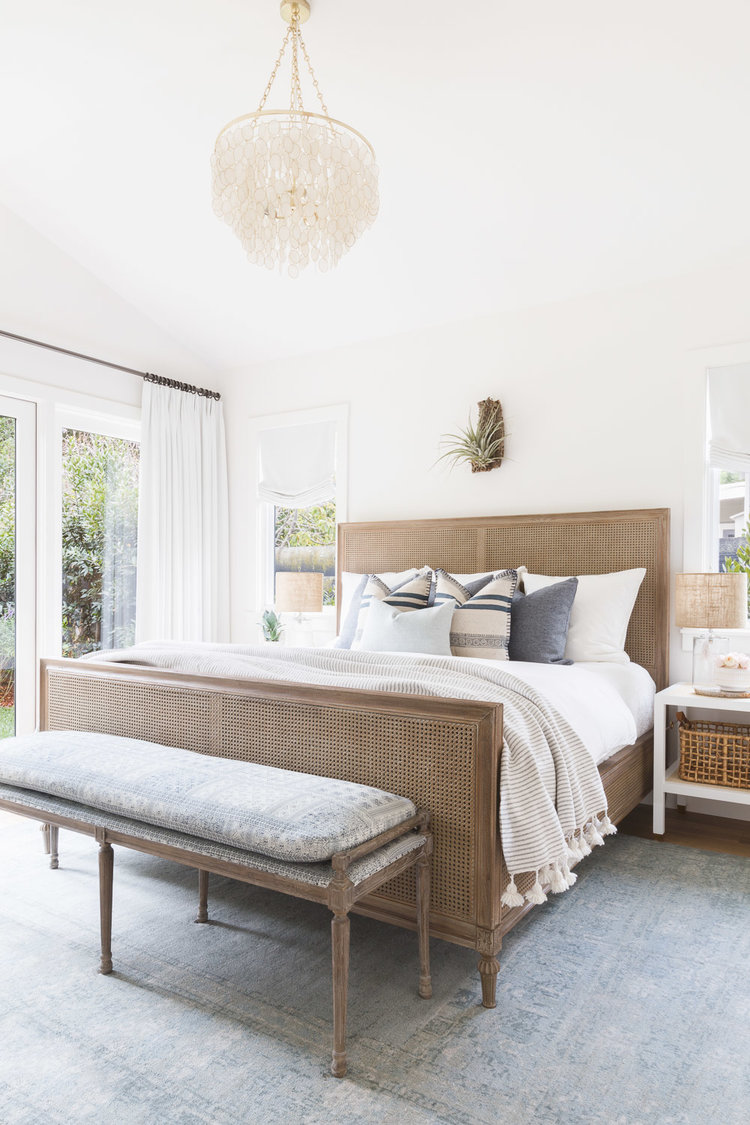 When it comes to learning how to design a bedroom, it can be quite challenging for some. This especially rings true when you're dealing with smaller spaces! I recently came across this beautiful neutral bedroom by Amanda Barnes on My Domaine. What I love most about this bedroom is that it achieves a perfect mix of tranquility without skimping on color. Adding a piece of furniture like a bench at the foot of the bed allows for a look of luxury and sophistication. The flow of your bedroom is also crucial – you never want to obstruct walkways. If your bedroom is limited in size, choosing a narrow bench is a great alternative to help add dimension to your bedroom.

Today I've rounded up a few key pieces to help you re-create this look. Whether you're starting from scratch (like me!) or you never quite finished your space, hopefully some of these pieces will help you master the look of a neutral bedroom. A few of my favorite pieces: this blue linen bench from One Kings Lane, this Serena and Lily harbor cane bed, and this West Elm striped throw. Furniture steals include this Ikea night stand ($19) which you can accessorize with a cute rattan basket + this glass lamp and linen lamp shade from Target. I have to admit, I have over 5 lamps in my apartment all from Target! It's one of my go-to retailers for affordable lighting sources.
Not included in my collage but will also help you achieve this look: Pottery Barn's Emory Linen curtains. I bought these for my last apartment and will be using them again in my new UES apartment. West Elm's over sized adjustable rod. I recommend this in the 1″ rod in brass. I also bought this for my last apartment but unfortunately my windows are too big in my new rental so I had to get a different curtain rod. Last but not least white linen bedding. Will also be purchasing for my new apartment!
Get The Look

gift
gift