Back when I was redesigning my bedroom for the One Room Challenge, I was very interested in custom designing an x-bench for under my desk. Given the exact dimensions of an x-bench, I knew it would be the perfect space saver in my tiny New York City bedroom. Well in case you are just tuning in, the One Room Challenge is a SIX week challenge sooooo it doesn't give much time for custom upholstered furniture! Note to self, start earlier next time around!!!!
I wasn't going to give up on a custom x-bench so I opted for a Hans Wagner Chair (knock off, of course) as seen below to hold me over until I could get my hands on the perfect x-bench in the meantime.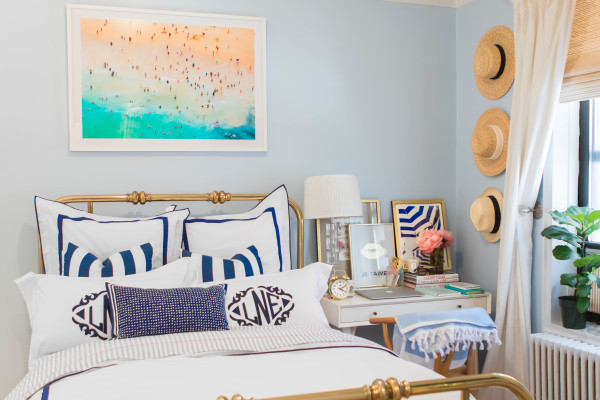 So I started researching a few different custom furniture makers across the US and came across Etsy shop Liven Up Design. I emailed Jen and told her the exact look I wanted. I can't tell you how helpful she was throughout the whole process with sharing exact yardage, how much time it would take to develop and ship.
Now it was time to decide on the fabric. I reached out to Decorators Best who was also just as helpful when it came to fabric options. Decorators Best is one of the top sources for the latest in wallpaper and fabric from the top designers in the industry. As I've blogged about before, I am a HUGE fan of textile designer John Robshaw. Given that I was going for a Montuak inspired look, I knew I had to have a John Robshaw print for my x-bench. I ended up selecting a super bold print, Duarlee's Fazil Blue fabric (now on sale!) and mailed it to Jen.
Now that things have calmed down after the holidays, I finally had a chance to shoot my updated desk space and of course I had to show you guys!!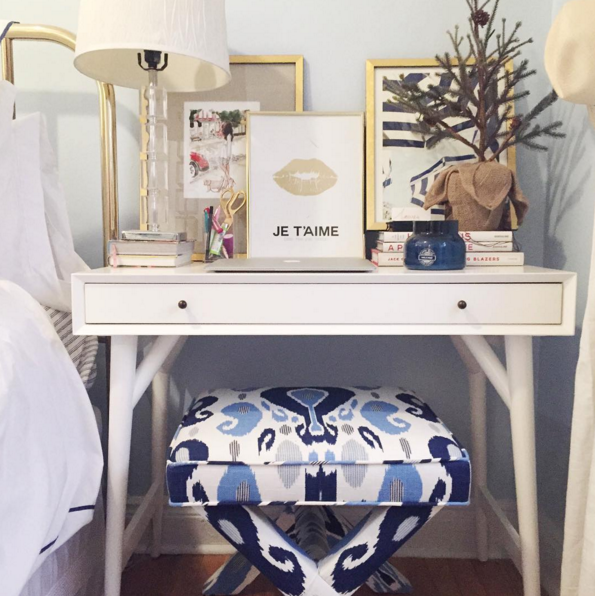 What do you think? I moved the Hans Wagner chair to another room in my apartment and figure I can use both the chair and x-bench in several different rooms in the future. Hope you love as much as I do! And if you're in market for custom upholstured furniture, be sure to reach out to Jen at Liven Up Design. She is the best!! Xoxo. Lauren
Shop My Desk Space:
Matouk Beach Towel c/o // Hans Wagner Wishbone Chair // West Elm Mini Mid-Century Desk // Target Lucite Lamp Similar // Made by Girl Print // Inslee Illustration // Gold Alarm Clock // Design Darling Tortoise Shell Vase // Hamptons Book // A Privileged Life // Rowing Blazers // Kate Spade Notebook // To-Do Notebook // J.Crew Panama Hat