Happy Wednesday, loves! Today's Coffee Talk feature is with one of my favorite blogger friends I've made since moving to New York. Insert Julia Dzafic of Lemon Stripes! I love Julia's blog and instagram for so many reasons. One, it's just plain pretty. Two, we have a very similar eye when it comes to decor. Three, she keep things fun and light!
On a personal note, Julia and her husband recently moved to Connecticut so it's been so fun having her out in the burbs on the weekends! From mani/pedi's to double date brunches and dinners, Mike and I have enjoyed hanging out with Julia and Anel. Can't wait for many more double date adventures to come!
Below Julia shares her top interior design tips and tricks, favorite beauty products and more! I love learning which products my girlfriends use as well as their favorite travel destinations and recommendations, so today's feature is pretty fun if I do say so myself. Enjoy! Xo. Lauren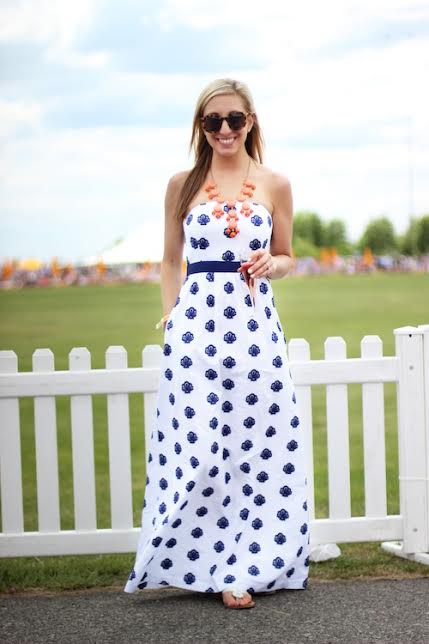 Name: Julia Dzafic
Neighborhood: Recent Manhattan transplant to Connecticut
Company: Blogger at Lemon Stripes, Marketing Director for Nourish Snacks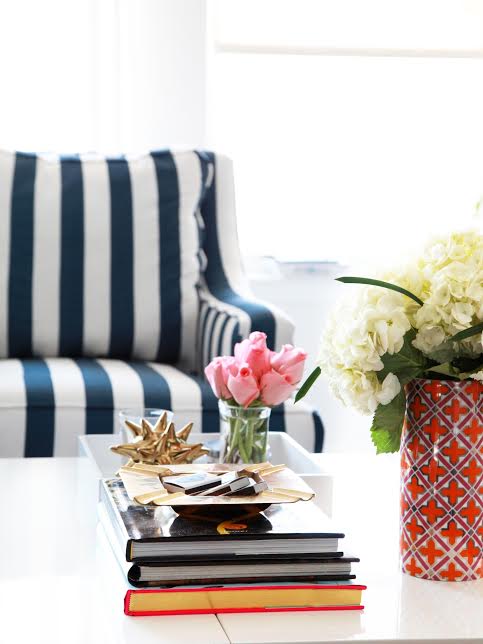 LET'S CHAT DECOR
What is one piece of furniture or artwork you can't live without?
My Gray Malin oversized print of Positano. It reminds me of my honeymoon on the Almafi Coast and is the central piece of design in our living room. You can read more about the piece here.
What was one item you were most excited about purchasing?
My custom-made striped club chair from Society Social. I knew I wanted a navy and white striped chair but couldn't find the perfect one anywhere so Roxy made it for me!
Go-to Bedding:
Serena and Lily sheets and duvet cover. Pottery Barn faux fur throw.
On Your Bar Cart:
A brass tray with 4 of my favorite whiskeys, a decanter full of Rakia, a Bosnian liquor that my husband brings when he goes back home to Bosnia.
Must-Have Coffee Table Books:
Vanity Fair Portraits, Aerin Lauder's Beauty at Home and A Privileged Life! I have coffee table books on pretty much every surface of my home!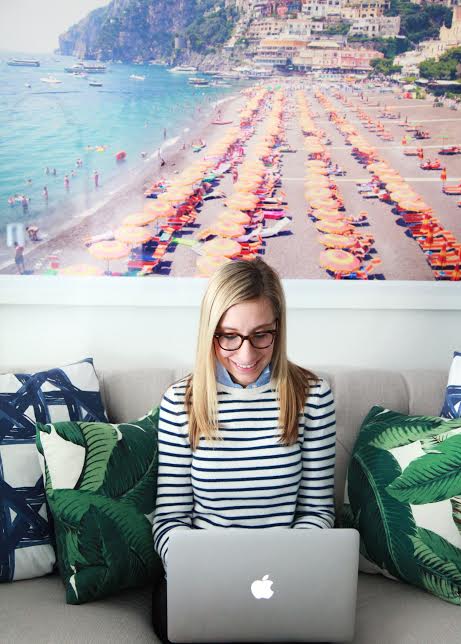 Top Three Interior Design Tips and Tricks: 
Buy fresh flowers ever week for pops of color and to bring natural life into your space.
Style in threes – on your bar, end tables or coffee tables, think about placing objects in groups of three. It's much more aesthetically please for some reason.
Invest in art that means something to you. Cheap prints get old quickly and you'll end up redecorating often. When you buy a piece of art that is timeless and sentimental, you'll have it forever!
What's on your night stand? 
Fresh flowers, hand cream, whatever book I'm currently reading and a photo from my wedding.
Paint Color:
I like clean white! Nothing fancy.
LET'S CHAT TRAVEL
Favorite Vacation Spot:
The Amalfi Coast, Italy
If you go anywhere in a moment's notice, where would it be?
The Gansevoort Hotel in Turks and Caicos.
Favorite Hotel:
Palazzo Avino in Ravello, Italy. It's where I stayed on my honey moon and it is magical. The hotel's on top of a mountain overlooking the coast. I get goose bumps just thinking about it.
African Safari or Beach Getaway?
Beach, duh.
Cocktail of Choice:
Vodka with a splash of St. Germain is my go-to but I'm a sucker for a tall glass of Pinot Noir.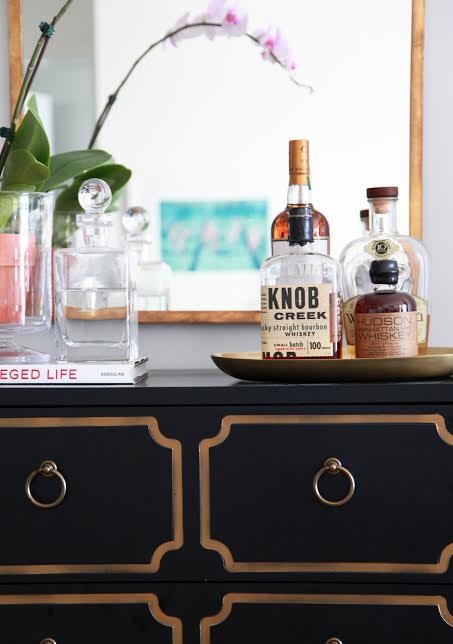 LET'S CHAT BEUATY
Top Three Beauty Products: 
Face Mask of Choice: 
PCA Skin Purifying Mask (I'm acne prone!)
Go-to Nail Polish:
Eye Cream:
Dr. Hauskcha Daily Hydrating Eye Cream
Lipstick/Gloss:
Nars lipstick in Schiap and Aerin lip gloss in Weekend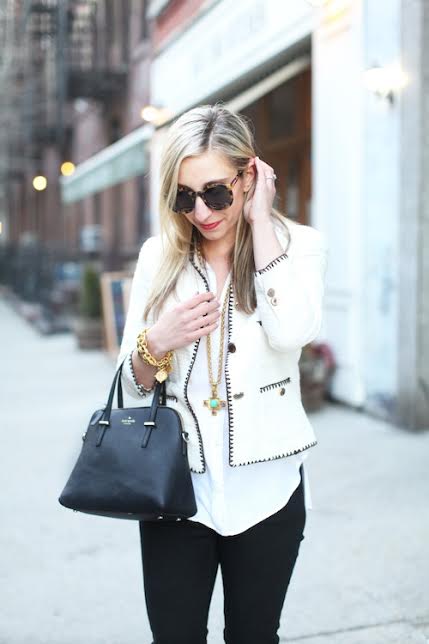 TELL ME ABOUT YOUR CITY:
Favorite Restaurant: 
Ultimate Brunch Spot: 
Favorite places to shop for clothing or home decor: 
Clothing: J.Crew and Calypso St. Barth's. Home Decor: One King's Lane and Hoagland's in Greenwich.
Hidden Gem: I'm still searching for it in our new neighborhood. I'll keep you posted.

When we lived in Manhattan,it was a tiny restaurant on the Upper East Side called Heidi's House. They knew us by name, it was awesome.
Be sure to follow along with Julia on her Blog, Instagram, Twitter!