Welcome to the One Room Challenge: the final reveal!! It's been a busy 6 weeks to the say the least but you guys, I am SO happy with how my bedroom came together!! In case you are just tuning in, myself and all of these beautiful people committed to re-designing a room in just six weeks. You can catch up on weeks one through five right here.
Let's get to it, shall we?!

When I first started thinking about my re-design, I knew I wanted my bedroom to capture my evolving east coast style. Let's just say, I wanted a whole lot of blue and white mixed with Montauk inspired prints. With that, the first challenge I faced was deciding on a paint color. Do you know how many different shades of blue there are? Luckily, BEHR came to my rescue and after much thought and consideration I went with my gut and decided on BEHR's blue me away. Although I did paint a small piece of paper and hung it on my wall for a week, you still don't know how it will look until the entire room is painted. Thank goodness I am OBSESSED with how it turned out.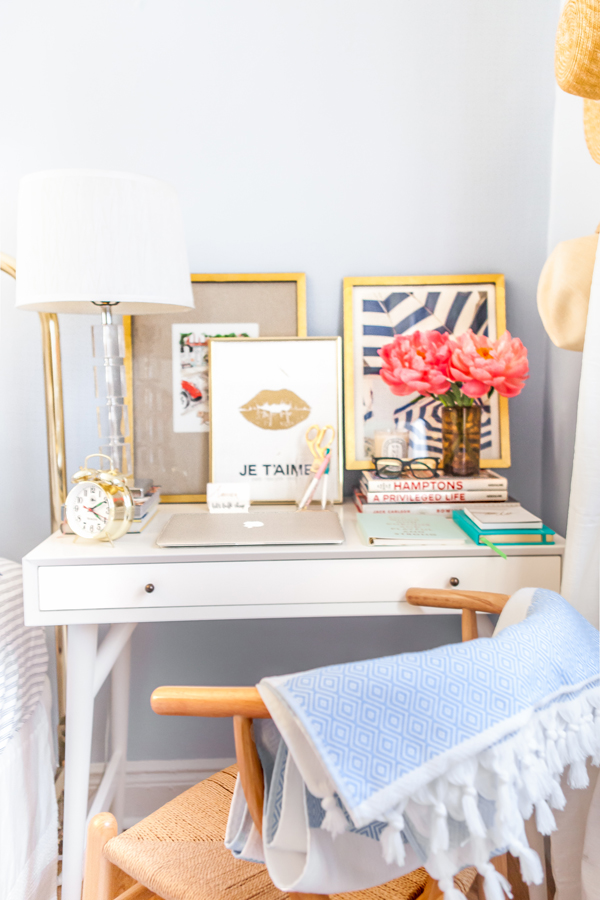 Matouk Beach Towel c/ o // Hans Wagner Wishbone Chair // West Elm Mini Mid-Century Desk // Target Lucite Lamp Similar // Made by Girl Print // Inslee Illustration // Gold Alarm Clock
The next task on my redesign list was finding the perfect white desk. I knew as soon as I committed to the One Room Challenge that I wanted a desk to also double as my nightstand. After living in my apartment for 2 years without having a place to work (besides my couch), I thought it was about time I treated myself to an appropriate work area!!
I opted for West Elm's Mini Mid-Century Desk. It's the perfect size and fits the exact dimensions between my bed and the wall. Finding a mini desk to fit a New York City bedroom is harder than it looks, people! Measure, measure measure.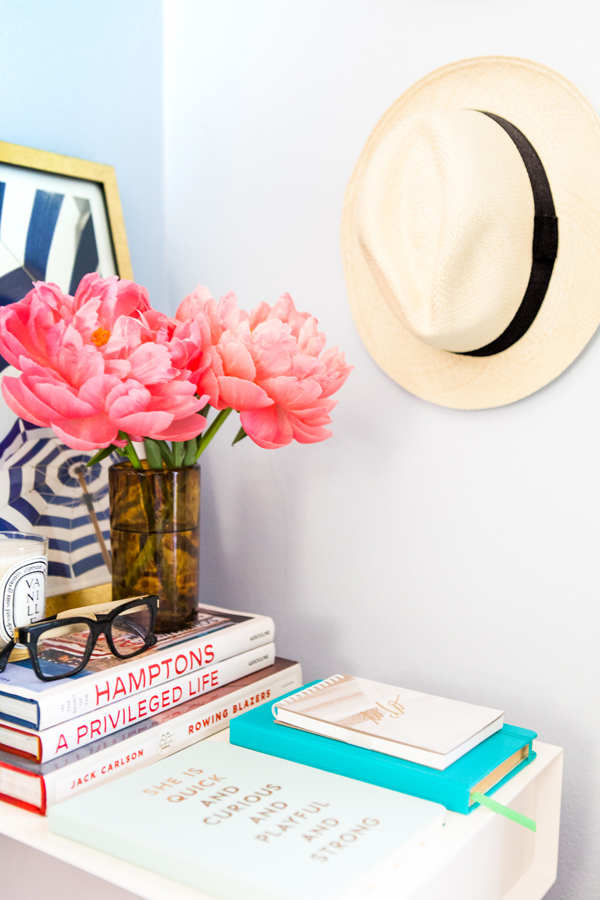 Design Darling Tortoise Shell Vase // Hamptons Book // A Privileged Life // Rowing Blazers // Kate Spade Notebook // To-Do Notebook // J.Crew Panama Hat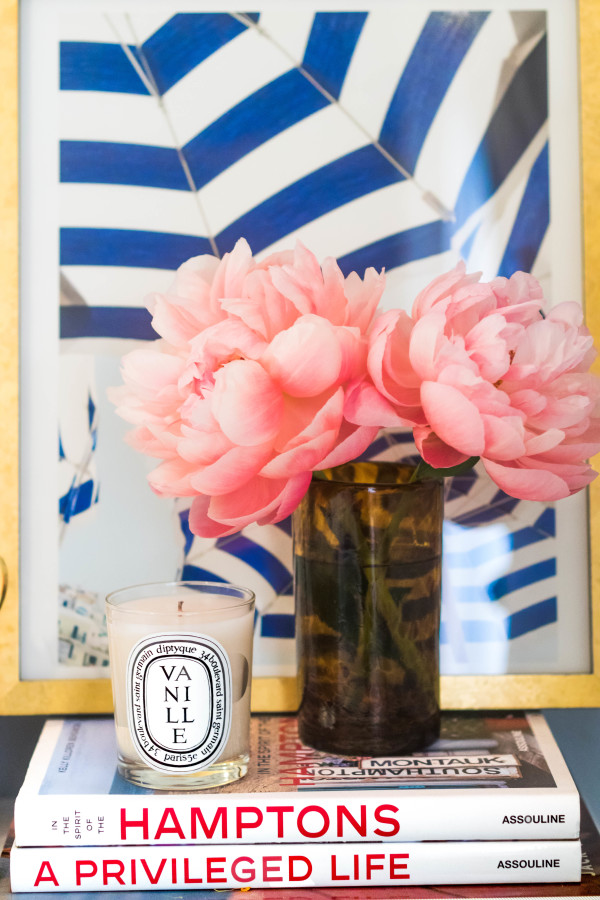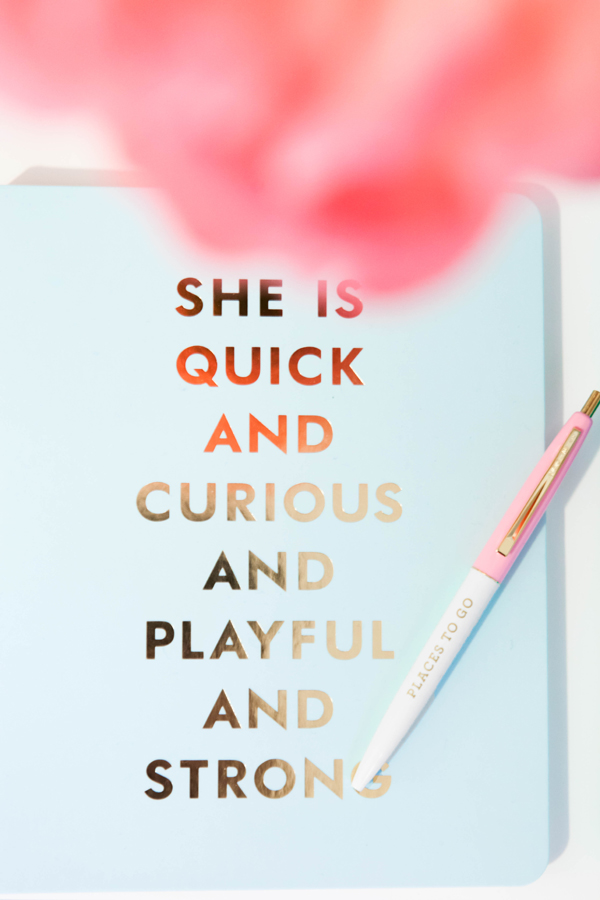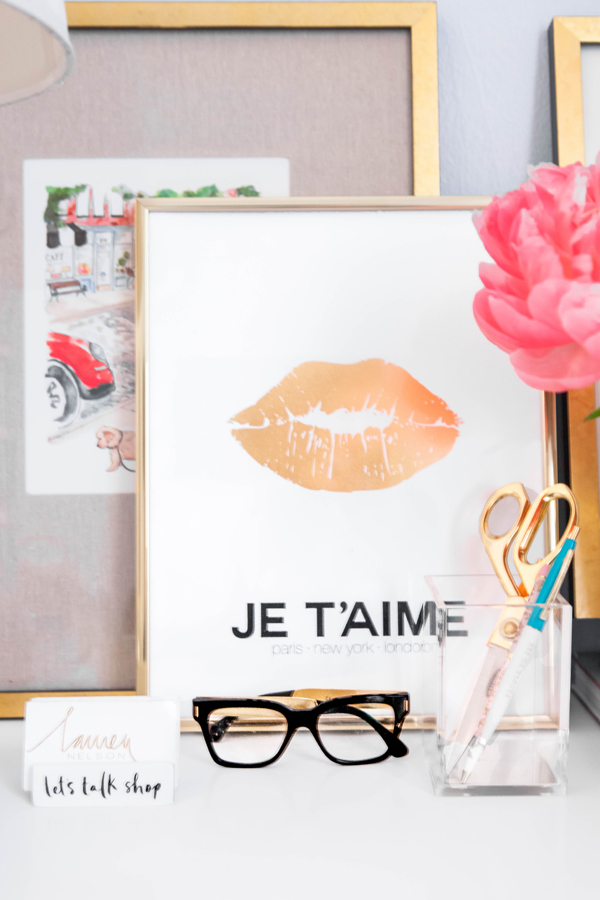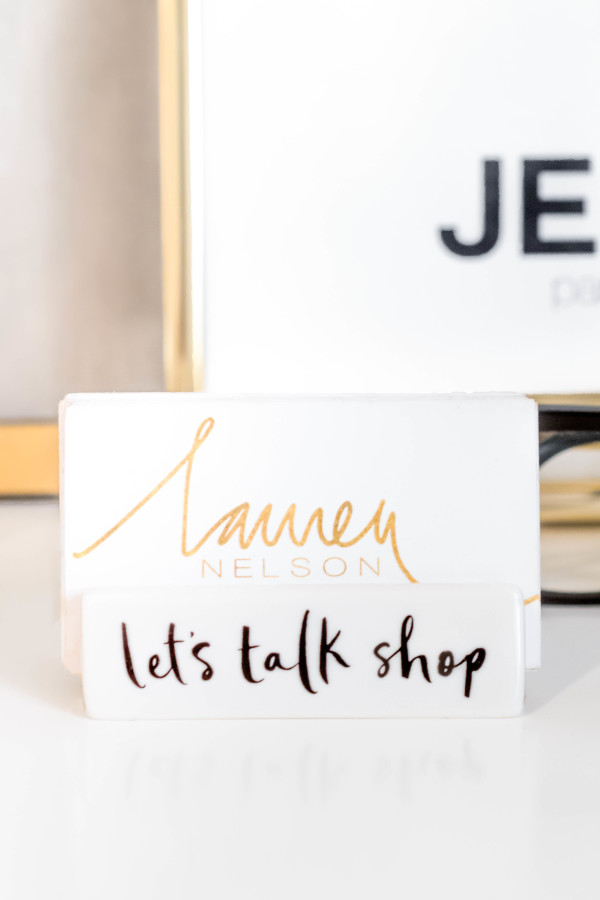 Let's Talk Shop Business Card Holder // Business Cards by Nico and Lala
One of the best parts of working on my re-design was working with the team over at Gray Malin! A big, big, big thank you to Gray and team for my Maroubra Swimmers piece.
I have been such a fan of Gray's work for years so I knew there wasn't anyone else I wanted to work with for the piece above my bed. Also, do you know how hard it is to decide a Gray Malin favorite? I was debating between his La Dolce Vita series and A La Plage series for WEEKS. I opted for the Maroubra Swimmers piece because I felt like it hasn't been overdone and I will be able to use this piece in future apartments and homes for years to come. Don't you LOVE?!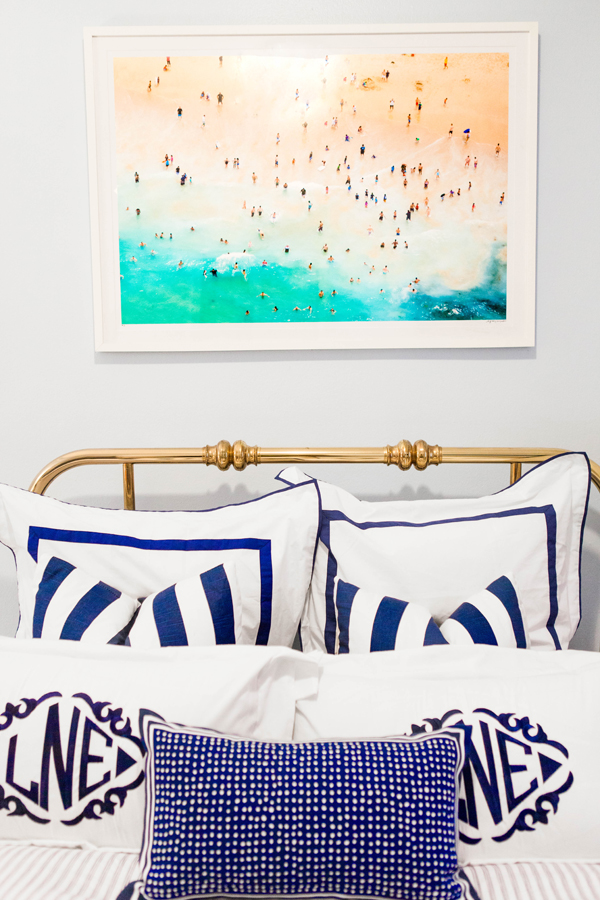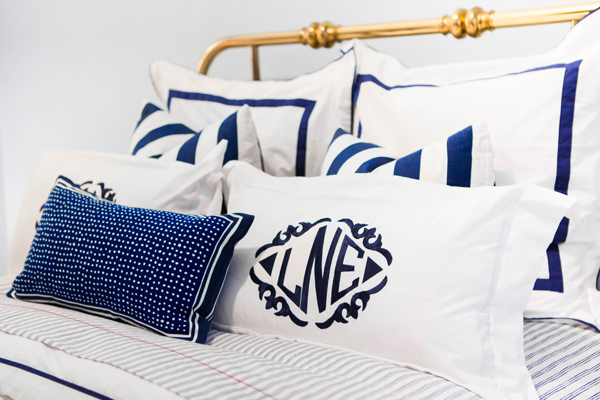 Now let's talk bedding!
As I've blogged about before, I believe you can never go wrong with a classic border frame bedding. I opted for Pottery Barn's navy and white frame bedding (which is on sale, btw!). Another big thank you to Sue over at the Zhush for my monogrammed pillows and to Roxy from Society Social for my navy and white striped pillows. There's nothing better than a perfectly layered bed. The sheets are Brooklyn & Bond which you can pick up at Target.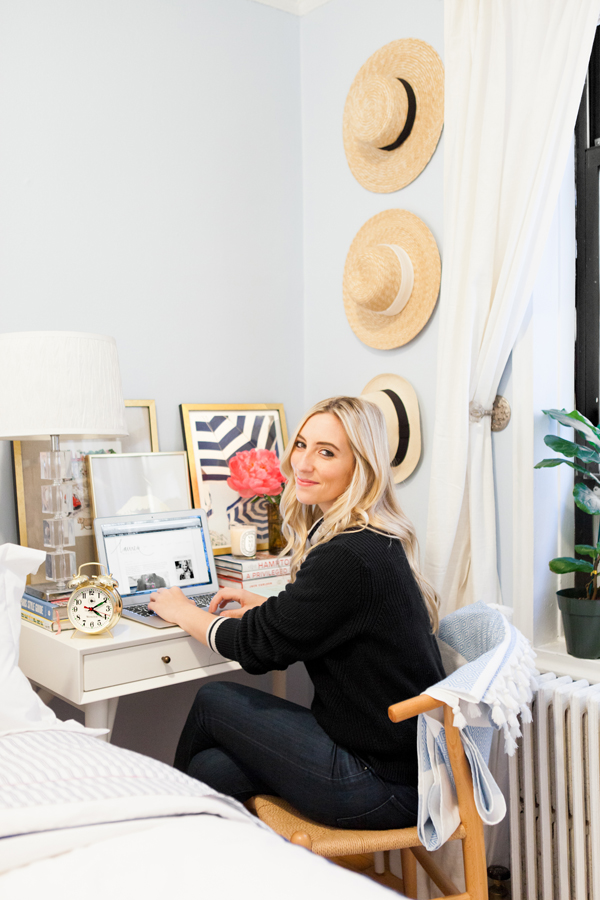 Another very fun part about re-designing my bedroom was working with Minted on my new gallery wall! Naturally I went with beachy inspired paintings and photographs. The only piece not complete on this wall is the custom x-bench I had made courtesy of Jen over at Liven Up Design!! I will be sure to update this post and Instagram the bench as soon as it arrives but I can't wait to style it under my new gallery wall. I decided on a super bold print by John Robshaw via DecoratersBest to help me incorporate those Montauk inspired prints.
 Waiting Mailbu // Hood River Boards (surfboards) // Marbled Wake// Early Morning Surfer // Portifino Afternoon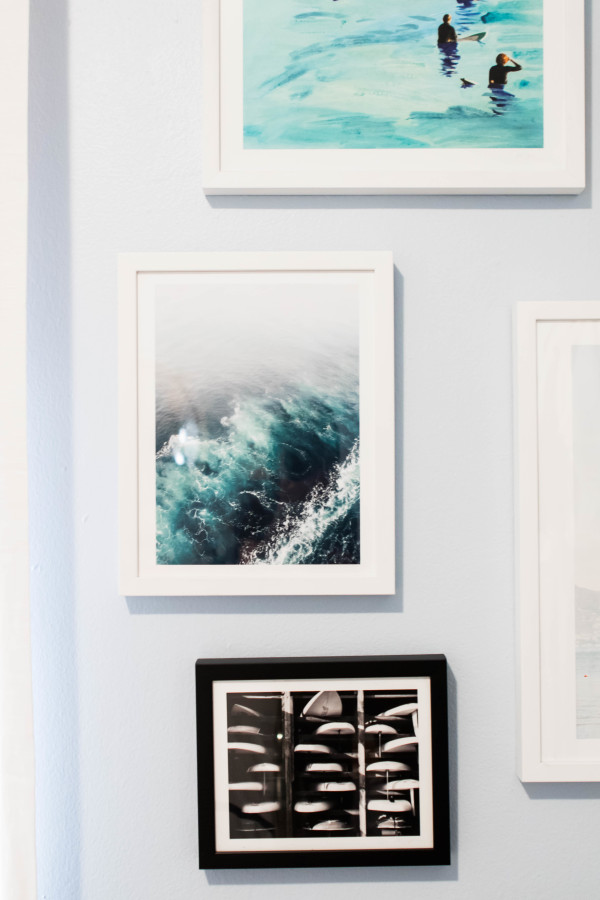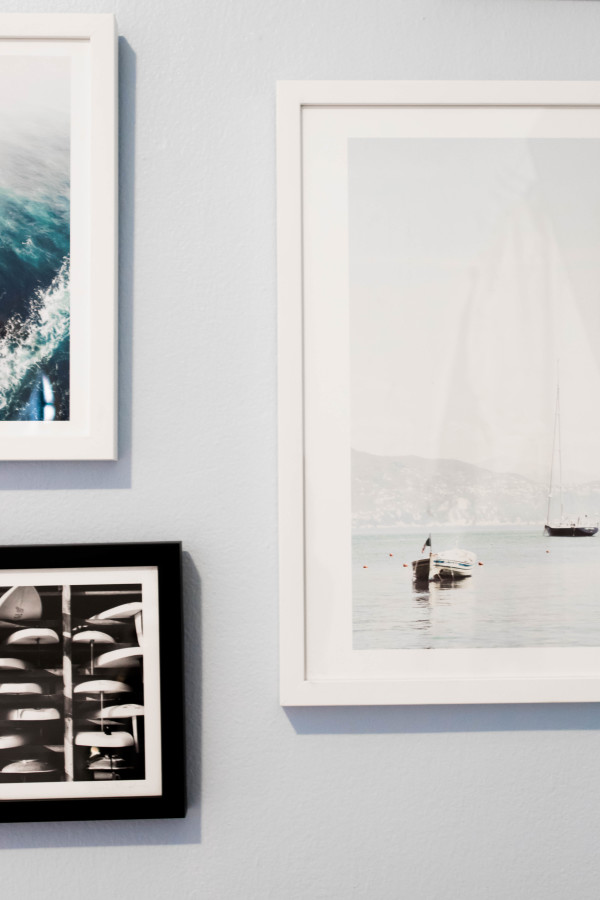 Welcome to my jewelry station!
I moved my Ikea Kallax Bookshelf which was where my desk currently is located and moved it to a different corner of my room. It is now being put to use as my jewelry stand. There's nothing prettier than displaying all of your baubles in one place! Another trick that is always stylish is using Diptqyue vases as a brush holder. The gold mirrored tray you can find at World Market and is only $29.99.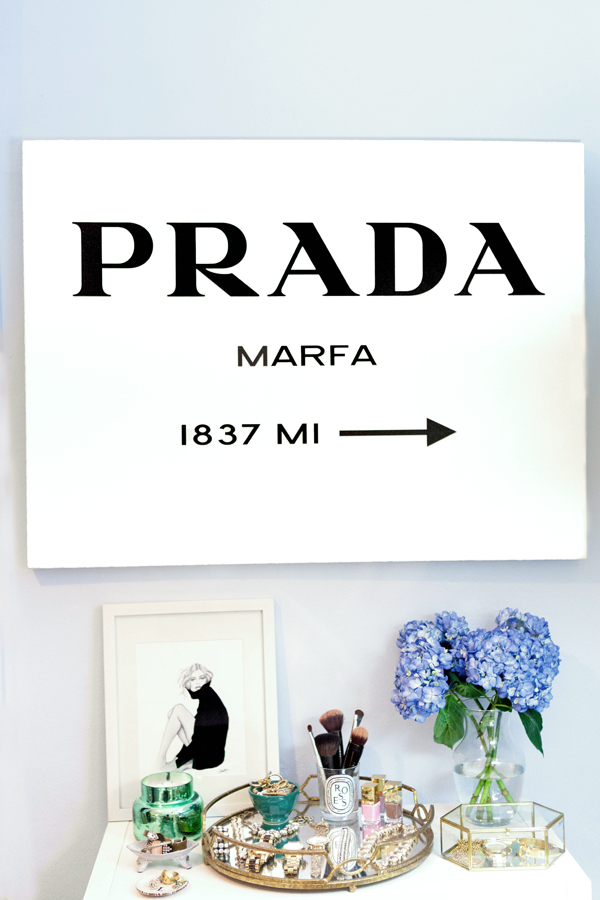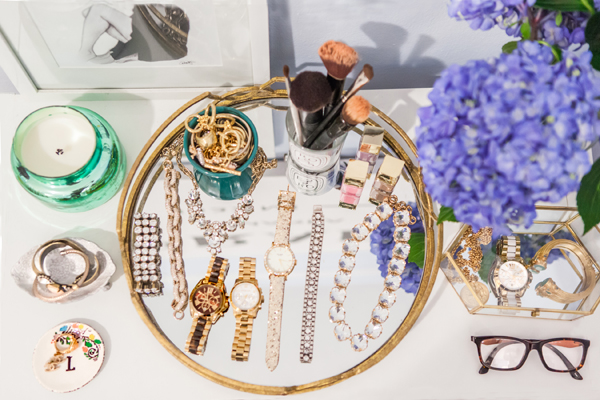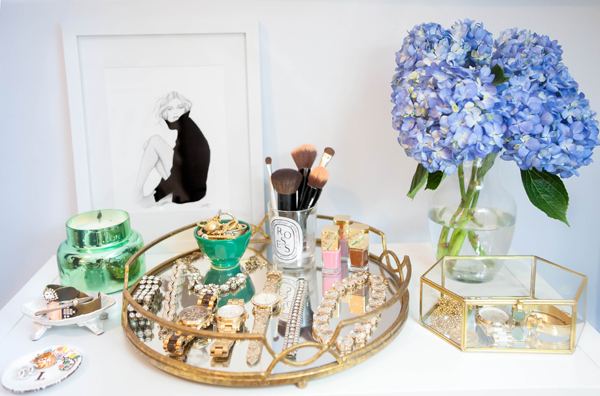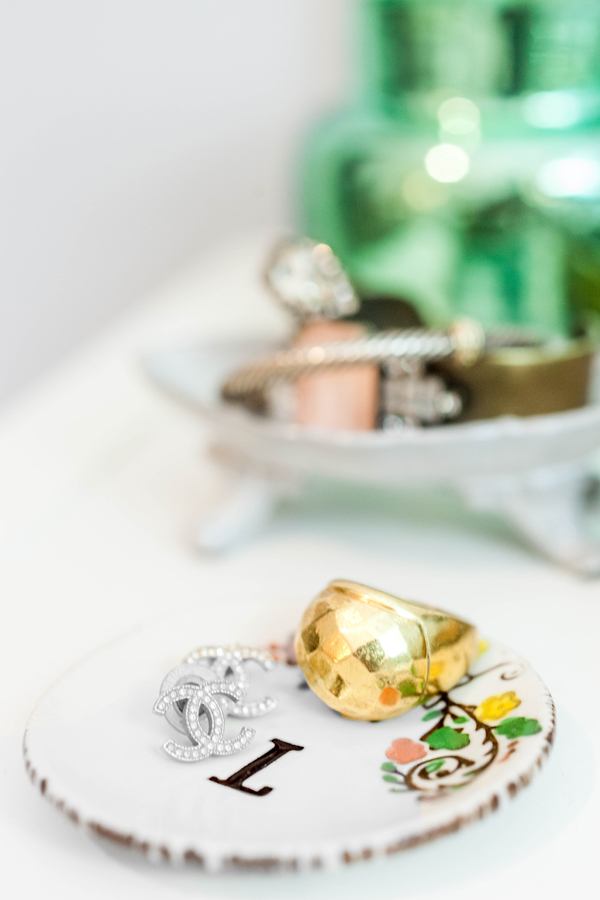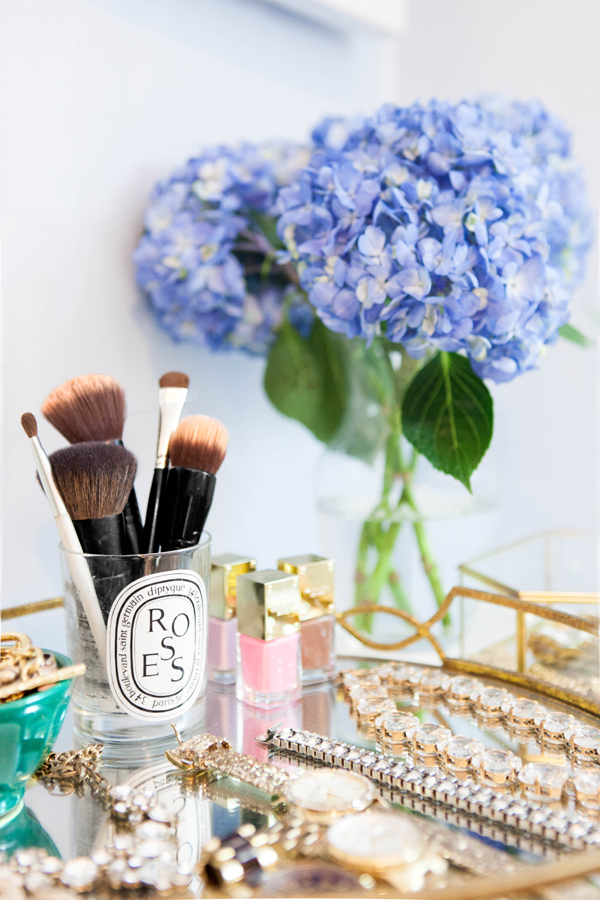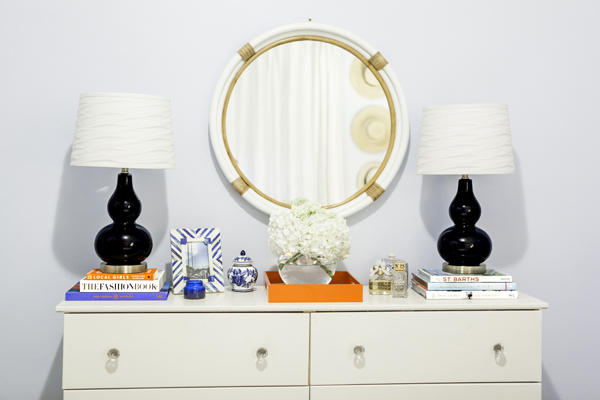 Serena and Lily Mirror // Ikea Tarva Dresser // Target Navy Lacquer Lamps // West Elm Orange Lacquer Tray // Anthropologie Blue and White Stripe Frame // Blue Candle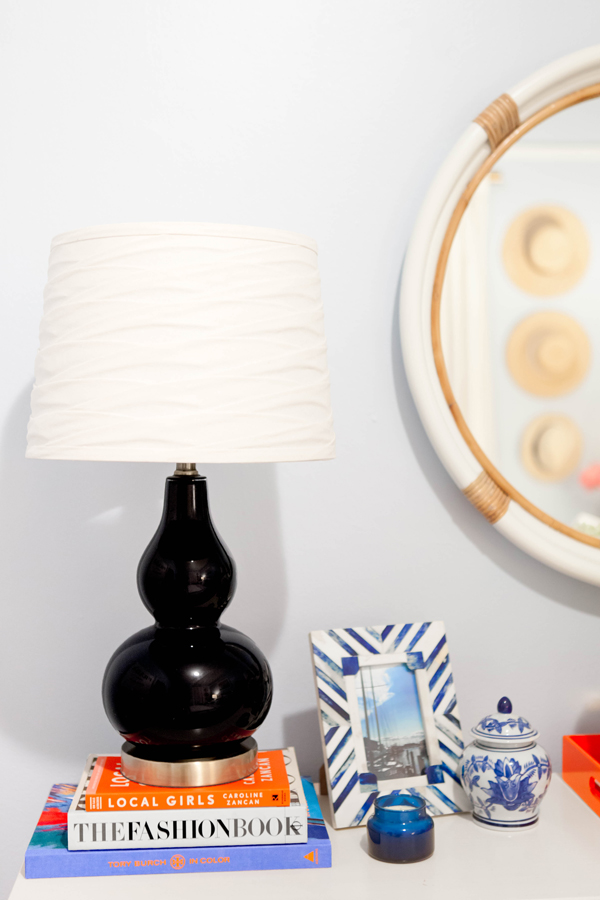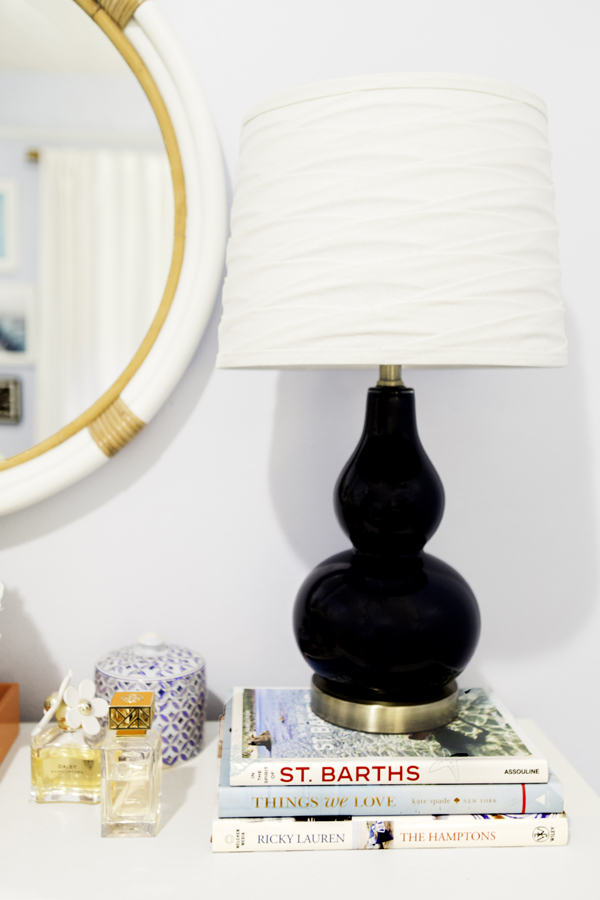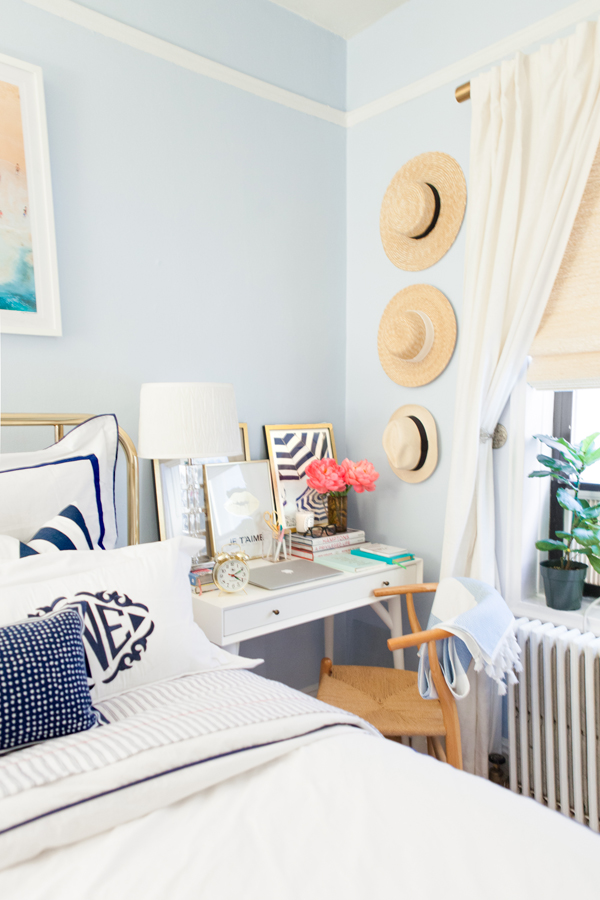 The last piece of my little coastal bedroom puzzle were the custom bamboo shades! I had the best experience working with the Shade Store. I opted for their Standard Woven Wood Shade in Seaview-6. They are SO Hamptons, I LOVE it! I am convinced I'll never live without custom shades ever again.
To complete my one and only window in my bedroom, I decided on Pottery Barn's Emery Linen Drapes in White. They are thick enough to keep light out and I like how they give my bedroom a relaxed finish. I also knew they would compliment the bamboo shades well. Last but not least, I decided on West Elm's oversized brass hardware to tie in my brass bed that was given to me by my mom. It was hers in high school, isn't that crazy! It is true that brass never goes out of style.
I had so much fun participating in this fall's One Room Challenge. Be sure to check out all the other participants over on Calling It Home's website! You can find all the product features below and feel free to email me at lauren@lauren-nelson.com if you have any questions!
Hope you guys enjoyed following along my One Room Challenge and love my new east coast inspired bedroom as much as I do!!!
Xo. Lauren
Shop My One Room Challenge
Bed:
Pottery Barn Border Frame Bedding (on sale!) // Brooklyn & Bond Stripe Sheets c/o // Euro Shams // Monogrammed Pillows c/o// Society Social Throw Pillows c/o // Bed Frame Vintage – Similar // Gray Malin Maroubra Swimmers // Dash & Albert Fair Isle French Blue/Ivory Rug c/o// Target Sheepskin Rug // Serena and Lily Dotted Pillow
Window:
Pottery Barn Emery White Linen Drapes // West Elm Oversized Brass Hardware // Custom Shade Store Bamboo Shades c/o // Mini Fiddle Leaf Fig Tree
Desk:
Matouk Beach Towel c/o // Hans Wagner Wishbone Chair // West Elm Mini Mid-Century Desk // Target Lucite Lamp Similar // Made by Girl Print // Inslee Illustration // Gold Alarm Clock // Design Darling Tortoise Shell Vase // Hamptons Book // A Privileged Life // Rowing Blazers // Kate Spade Notebook // To-Do Notebook // J.Crew Panama Hat
Dresser:
Ikea Tarva Dresser // Target Threshold Blue Lacquer Lamps // Serena & Lily Montara Mirror // Ginger Jars Similar here and here // Local Girls // The Fashion Book // Tory Burch In Color //Anthropologie Blue and White Stripe Frame // Blue Candle  // West Elm Orange Lacquer Tray //  In The Spirit of St. Barths // Things We Love // Ricky Lauren The Hamptons //  Tory Burch Perfume // Michale Kors Flower Perfume
Minted Gallery Wall C/O:
Waiting Mailbu // Hood River Boards // Marbled Wake// Early Morning Surfer // Portifino Afternoon
Jewelry Station:
Ikea Kallax Shelf // World Market Gold Mirrored Tray  // Gold Jewelry Box // Monogrammed Garland Ring Dish