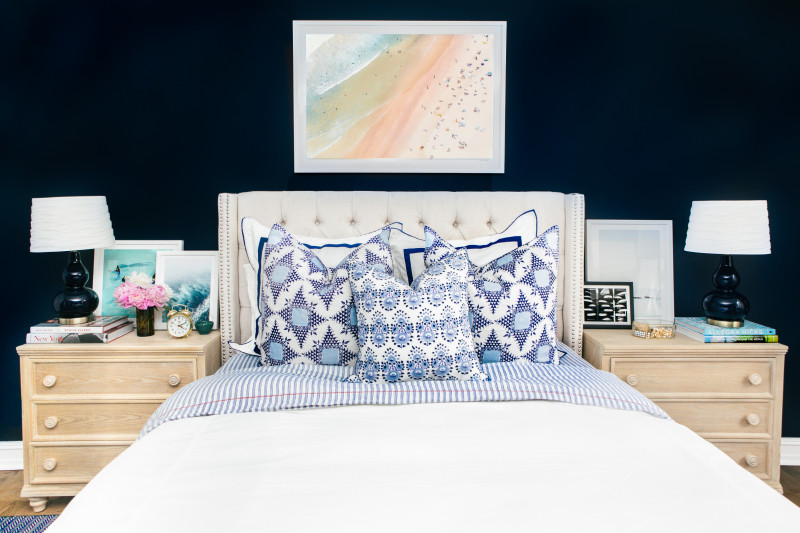 You guys!!! I'm so excited to finally share with you my bedroom reveal! In case you are just tuning in, I moved to the Upper East Side at the end of last year. I redesigned my old bedroom as part of the One Room Challenge which you can see right here. Although moving is such a pain in New York, I was very excited to have the chance to makeover a totally new space. It's taken longer than expected to finish my apartment (as many of you know, my living room is still in the works!) but nonetheless, the bedroom is FINALLY finished so here it is. I am so happy with how it turned out and I wouldn't have been able to do it without working with amazing brands like Gray Malin, The Mine, Gansett Lane Home, Annie Selke and more.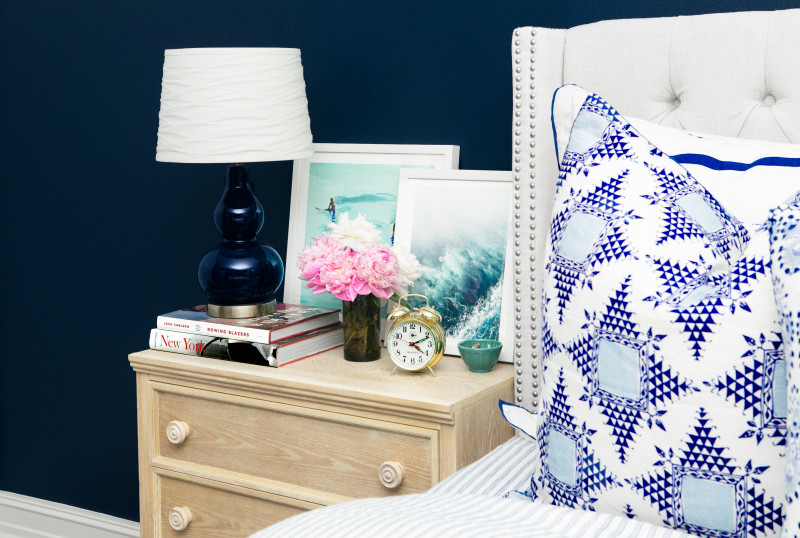 Let's talk paint. My good friend Amy introduced me to a company called Paintzen, a company who is dedicated to taking the pain out of painting. They are based here in New York City and they did an AMAZING job painting my entire apartment. If you remember my last bedroom, I opted for a light sea blue from BEHR. This time around, I wanted to make a bigger statement in the bedroom and went with Hale Navy by Benjamin Moore.
If you live in New York and are interested in painting your apartment, I promise it's 100% worth it. You can reach out to Paintzen to get an estimate. Their painters are diligent and quick! They honestly made the whole process seamless – helping me move my furniture in the center of the room, removing and then replacing again any mirrors or frames on the wall + patching up any holes I wanted to get rid of. Painting my apartment completely transformed the space.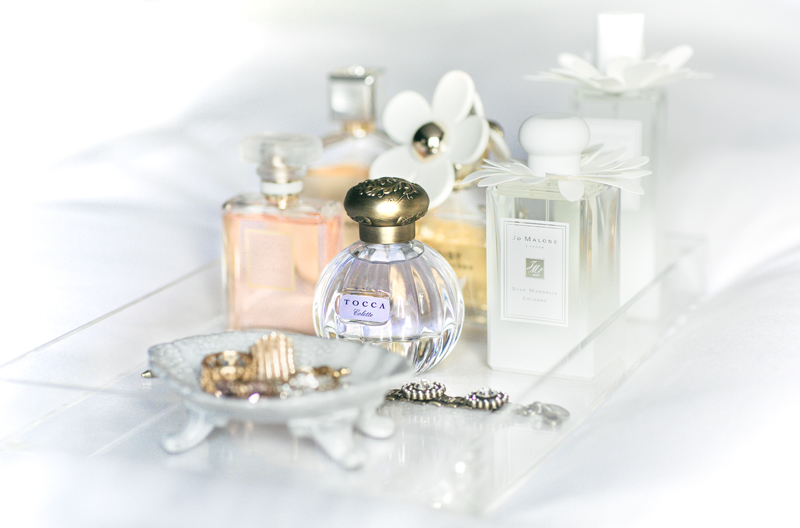 Whenever you're about to design a new room, I always highly recommend creating a Pinterest board to get a better handle on how you want your space to look. As I was pinning away, I noticed myself pinning bedrooms with big tufted headboards. I also pinned spaces with natural wood pieces of furniture. If you're not familiar with Shea McGee of Studio McGee, you must follow her on Pinterest first of all. And second of all, Shea uses natural wood materials and pieces throughout many of her client's rooms so I took a page out of her book. After creating my bedroom moodboard, it was time to get to work on sourcing the furniture.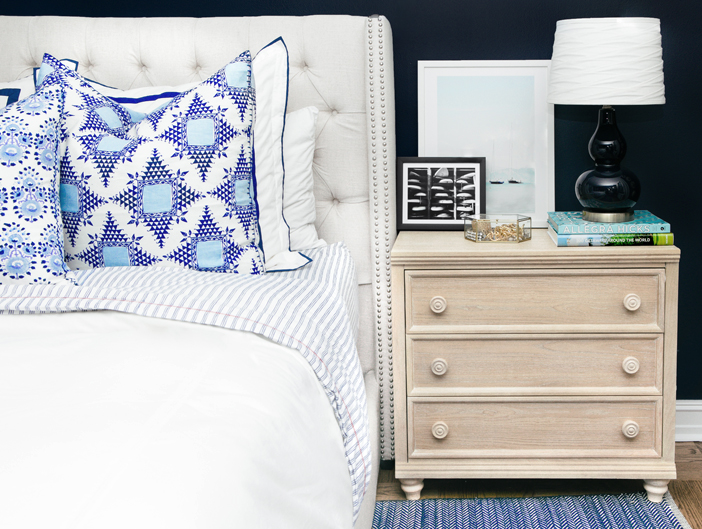 Insert one of my favorite retailers – The Mine (formerly known as ATG Stores). The Mine has such a wide variety of products to chose from it was not hard to find the exact pieces I was looking for. Although I don't think the version of my bed still available, this Park Avenue Linen Tufted Bed is pretty darn close. I also found my natural wood nightstands from The Mine which nicely compliment the dark navy walls. I know I will be using both my bed and nightstands for many years to come!
Psstttt… If you're having trouble designing or visualizing how your space can come together, The Mine also offers design services! Definitely check them out.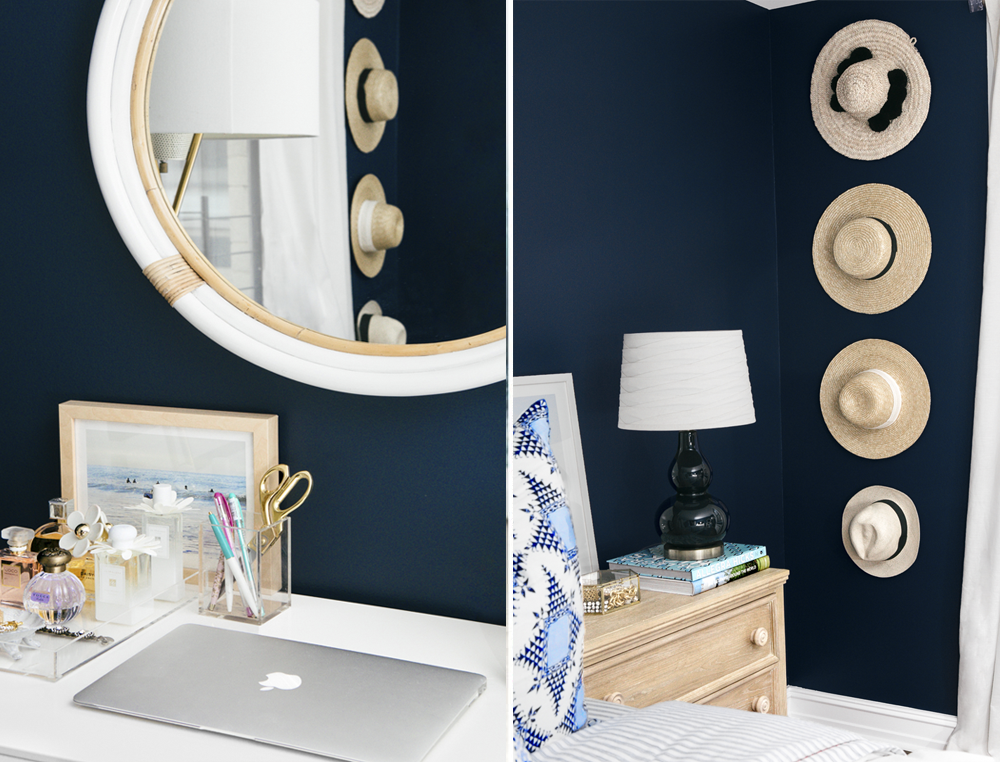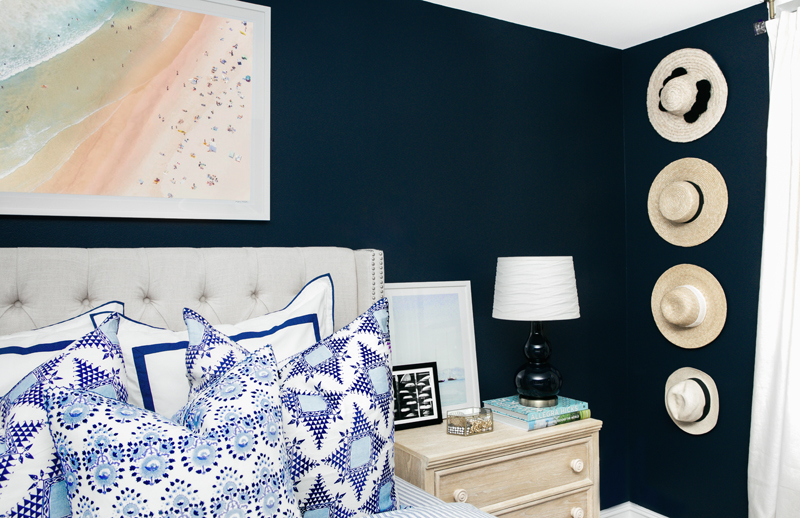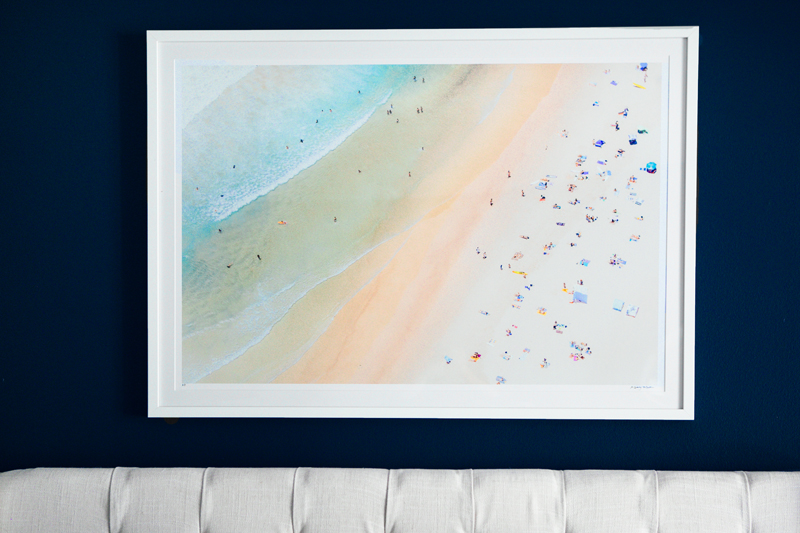 Similar to my last bedroom, I knew I wanted to hang a Gray Malin above my bed again as the focal point. I was so excited when Gray wanted to collaborate on his new Australian series – he literally just released these images this week! The last piece I chose was also from Australia so I loved the idea of keeping things consistent. This time I opted for the Bryan Bay Sunbathers. Isn't it pretty? You can shop all things Gray Malin right here.

Flowers, sun hats and vibrant pillows are pretty consistent throughout all of my spaces. My throw pillows for my bed are from Gansett Lane Home in Montauk. The fabric is John Robshaw (another fav).
If you have never visited and are planning a trip to Montauk this summer, you HAVE to stop by this store. Jessie also has a location in South Hampton. Every time I visit Gansett Lane Home I fall in love over and over again. Everything in the store is in line with my taste – coastal yet sophisticated. From the furniture to the decor and accessories, I always leave Gansett Lane Home with a ton of inspiration. Jessie helped me pick out the John Robshaw prints that would mix and match perfectly. I also use the pillows on my couch whenever I have guests over. The best thing about quality pillows is that you can use them anywhere within your home and they last forever! The Euro pillows shown above are the Dalma print. The 20×20 pillow is similar to this Baba print which I also love. I also have this blue and white throw blanket that I picked up last summer from Gansett last summer.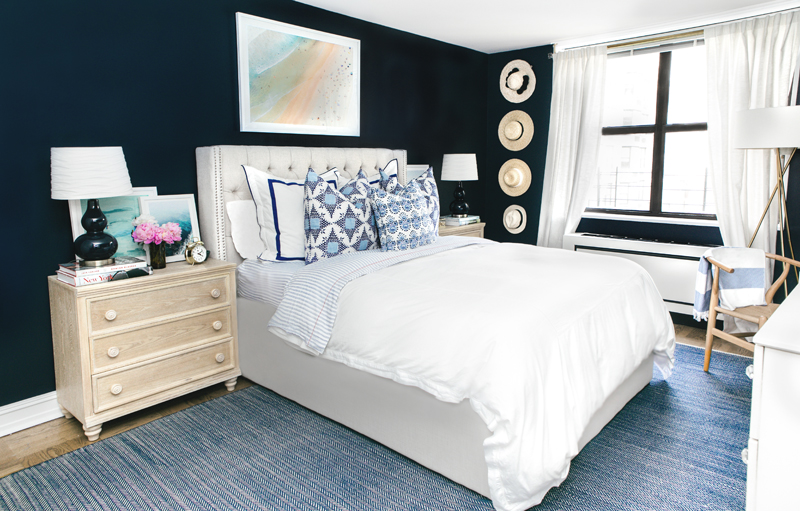 The last element that truly helped me tie the room together was the blue and white rug from Annie Selke. I worked with Annie on the rug in my last apartment and I have to admit, I don't think I can shop for rugs anywhere else. Trust me, I have tried and I'm never satisfied with the quality. Annie has so many great options to choose from, you really can't go wrong! Funny story is that I originally had the rug in my living room. After painting my bedroom walls navy, I decided to move the rug into the bedroom and love the way it looks. You can shop the Herringbone Indigo rug right here! I'll be collaborating again with Annie soon – can't wait to share the news with you guys – but more on this later.
Any who, what do you think? Are you a fan of the dark walls? Once I get my coffee table delivered, I'll be finishing and shooting the living room next!! I would LOVE to hear your guys' thoughts below.
Hope everyone is enjoying this beautiful weather!! Xo. Lauren
Shop My Bedroom
BED
Pottery Barn Border Frame Bedding (on sale!) | Brooklyn & Bond Stripe Sheets c/o | Pottery Barn Euro Shams | Gannsett Lane Home John Robshaw Pillows c/o | The Mine Linen Tufted Bed c/o | Gray Malin Byron Bay Sunbathers c/o | Annie Selke Herringbone Rug c/o | The Mine Natural Wood Nightstands c/o | Minted Waiting Mailbu c/o | Minted Hood River Boards c/o | Minted Marbled Wake c/o | Minted Early Morning Surfer c/o | Minted Portifino Afternoon c/o | Gold Alarm Clock | Tortoise Shell Vase | J.Crew Panama Hat | Allegra Hicks Coffee Table Book | Great Escapes Coffee Table Book
WINDOW
Pottery Barn Emery White Linen Drapes // West Elm Oversized Brass Hardware
DESK
Matouk Beach Towel c/o | Hans Wagner Wishbone Chair | West Elm Mini Mid-Century Desk | Hamptons Book | A Privileged Life | Rowing Blazers | Kate Spade Notebook | To-Do Notebook | Lucite Tray | Tory Burch Perfume | Chanel Perfume | Chanel Perfume Chance
gift