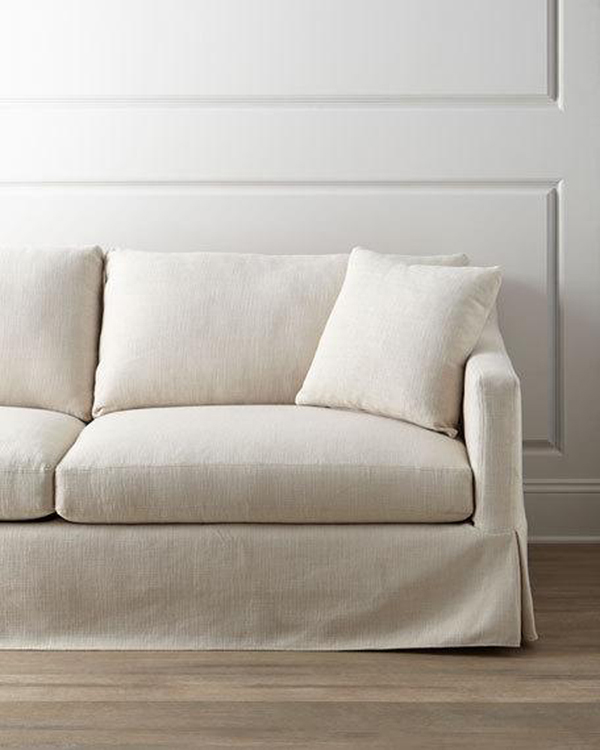 When it comes choosing the perfect sofa, this can be really hard! Like everything else, the options are endless. From which retailer all the way down to your fabric choice, there are quite literally infinite options when it comes to choosing a sofa. For many of us, the sofa can be the main focal point of a room. If that's not enough pressure, we have to ensure it's the right size and fits all of our needs. Think about how much time we spend on this one piece of furniture – from hours of Netflix to entertaining friends, I can't tell you how much back and forth I had when selecting my sofa!
In case you're just tuning in, I moved uptown over a month ago and have been on a serious hunt for furniture – with the couch being my top priority.  I've never purchased a couch before but I know it takes typically 6-8 weeks to ship so as you can imagine, I wanted to select my sofa fast but also be careful not rush any design decisions. Trust me when I say I looked everrryyyywhereeeee. West Elm, Horchow, Pottery Barn, Restoration Hardware, One Kings Lane, you name it. So when it came to narrowing down sofa's, I used these six tips when selecting my sofa from Horchow!
I'm so excited to show you guys the final reveal!
One. Determine How Your Sofa Will Be Used 
Determining how your sofa will be used is uber important. if it's a family room sofa that will be primarily used for lounging, choosing a deeper sofa will be important. Standard depths range anywhere between 36″-39″ inches long. The couch I selected is 41″ deep so it will be perfect for curling up this winter. For all you renters out there, it's important to be mindful of how wide the doorway to your apartment is. The standard width of most door ways is 3 feet, or 38″.
Two. Identify Your Style
Identifying your style is also very important. Are you more traditional, modern or coastal? If you're more traditional, you may be interested in couches with a rolling arm or couch skirt. If you lean toward modern styles, you may opt for a square arm. For me, I knew I wanted something more modern but relaxed.
Three. Determine The Size
Though it's tempting to rush the purchase, you have to measure (maybe, twice) to avoid a big headache! For renters, you have to measure every door the couch will be moving through – including the freight elevator and apartment doorway. Here's a quick reference guide to help you get a sense of everything you should measure when getting a new piece of furniture into your home. Another one of my favorite tips is using painters tape to outline to help you vision how big the couch will look in your space.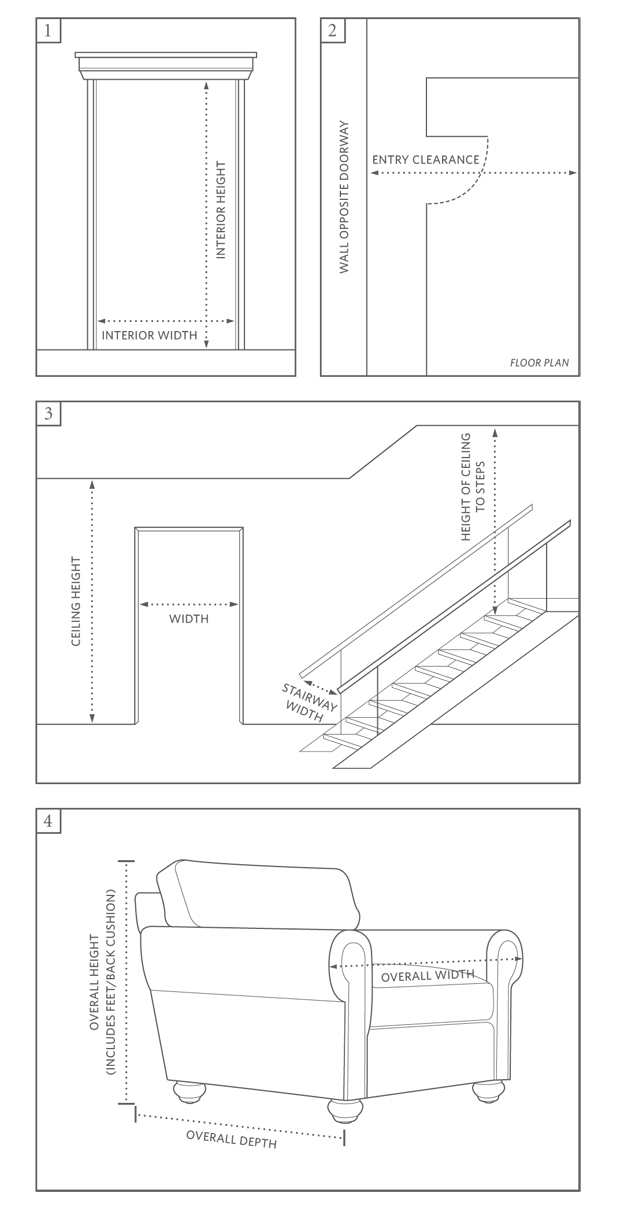 Four. Consider The Shape For The Space
Proportion matters, especially if you're considering a sectional. I personally was debating on getting a sectional (I LOVED this one from Horchow) as I want to use my couch for lounging! However, I think a sectional would overwhelm the room. I also want to do a club or spindle chair by the bay window and won't be able to do that if I have a sectional. If you are stuck on the idea of a sectional, designers recommend for sectionals a 32″ high back. It helps keep the sectional a little less imposing.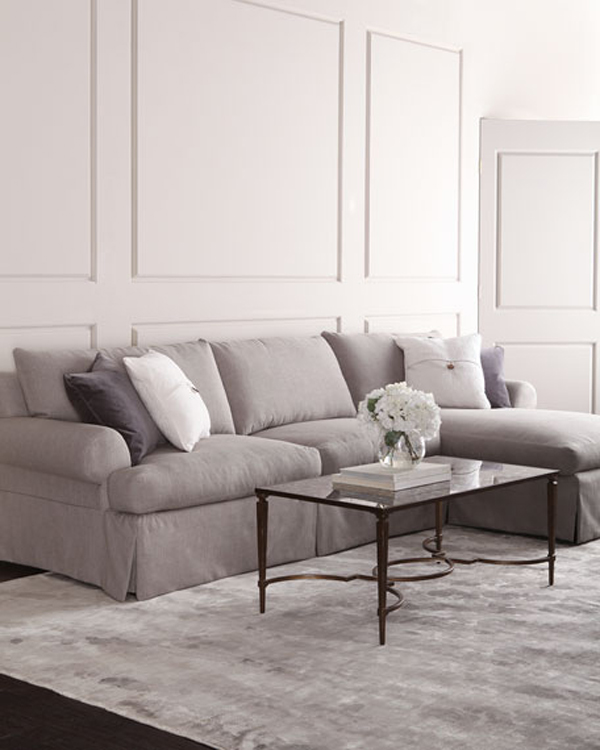 Five. Choose Your Color + Fabric
Don't fall for trends. Since your sofa will be the anchor of your room, choosing a classic color and style is highly recommended. For me I knew I wanted white, linen and a slip covered. White will never go out of style, linen helps me achieve the "relaxed" vibe I'm going for, and slip covered in case I spill or need to get a stain out. I will let my pillows do the talking + they can always be swapped out throughout the seasons!
I was so excited to find my couch at Horchow. They have numerous of options to choose from and with these 5 tips in mind, I was able to find the couch to fit my needs! As soon as I came across the Analise sofa, I knew it had to be mine. I can't wait to show you guys the final reveal.
What are some of the tips you've picked up when buying a couch in the past? I'd love to hear them! Xo. Lauren
*Thank you to Horchow for partnering on this post!